Portables
AreaRAE Rapid Deployment Kit (RDK)
Rapidly deployable wireless gas detection for hazardous threats
Overview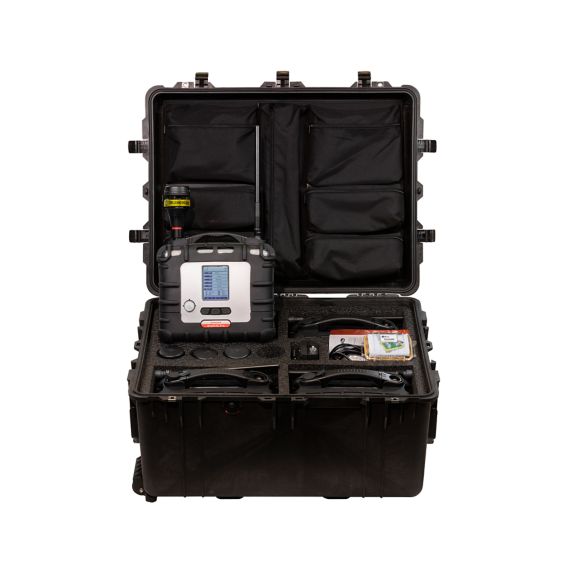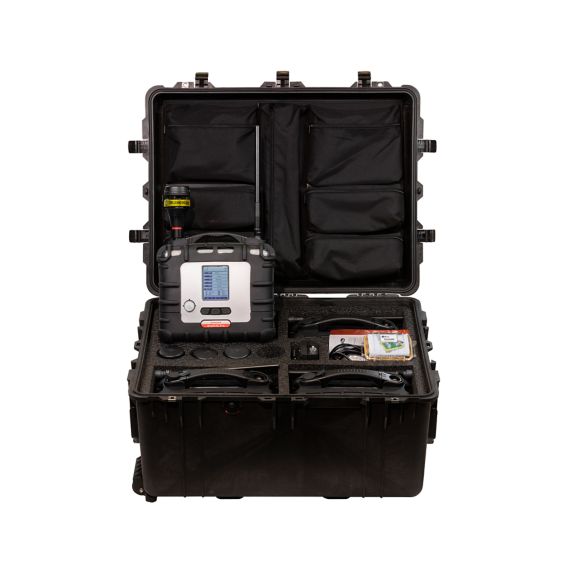 Assess and respond quickly to the release of toxic and radioactive substances with this turnkey system. The AreaRAE Rapid Deployment Kit (RDK) includes four versatile GPS-enabled AreaRAE monitors, RAEMet (AreaRAE Pro RDK only), a RAELink3 wireless router built in and all the necessary accessories for field operation. With The RDK, you have everything you need to create a perimeter and set up a command station up to two miles from the site. It all fits into a military-grade protective case, which charges all the batteries during storage.
Features and Benefits:
Turnkey system for detection of hazardous toxic chemicals and radioactivity
Includes 4 AreaRAE monitors and RDK Ruggedized Host Controller (Not the case for AreaRAE Plus / AreaRAE Pro)
Up to 2 miles (3km) range for ISM 900Mhz
Up to 1.2 miles (2km) range for ISM 2.4Ghz
Push data to any location via ProRAE Guardian
Military-grade case
Device batteries charged during storage
Easy to transport
Standard GPS enable units (AreaRAE Plus / AreaRAE Pro) and Optional for other monitors
Scales up to 64 remote devices
Application:
CBRNE
Clandestine Labs
Emergency Response
Environmental Cleanups/ Remediation
Fence Line Monitoring
Hazmat Response
Plant Shutdown & Turn-Around
Urban Search & Rescue
Venue Protection
Even the best products deserve expert maintenance!
Elevate your gas detectors' potential with Honeywell's expert maintenance services! Maximize uptime, eliminate costs, and ensure on-time, on-budget project completion.
Explore our fixed, portable, and high-tech support services now!
Dimensions
Weight

14.33 US Pound

6.5 kilogram
Range
Humidity Range
Sensor Range

VOC (0-2000ppm), LEL (0-100%LEL), CO2 (0-50000ppm), NH3 (0-100ppm), CO (0-2000ppm), Cl2 (0-50ppm), ETO (0-500ppm), H2 (0-2000ppm), HCL (0-15ppm), HCN (0-50ppm), HF (0.5-10ppm), H2S (0-1000ppm), O2 (0-30%), SO2 (0-20ppm), NO (0-250ppm), NO2 (0-20ppm), PH3 (0-20ppm), Gamma (0.01 μSv/h to 0.2 mSv/h)
Alarm
Alarm Type

Audible, Visual, Vibrating
Certifications
Standards

US and Canada: Class 1, Division 2, Groups A, B, C, D
Datalogging
Datalogging

Continuous data logging (90 days for 7 gas sensors, 1 Gamma
Features & Benefits
Benefits

Delivers real-time readings to Honeywell's remote monitoring software, so you can instantly determine the location and severity of a threat
Options
User Options

3 operation and programming keys
Warranty
Warranty

Four years for O2 Liquid Oxygen sensors
Additional Specifications
Ingress Protection
Gas Type

VOC, LEL, CO2, NH3, CO, Cl2, ETO, H2, HCL, HCN, HF, H2S, O2, SO2, NO, NO2, PH3, Gamma
Others
Minimum Temperature

-20 degree Celsius

-4 degree Fahrenheit

Maximum Temperature

140 degree Fahrenheit

60 degree Celsius
Dimensions
Weight

14.33 US Pound

6.5 kilogram
Range
Sensor Range

VOC (0-2000ppm), LEL (0-100%LEL), CO2 (0-50000ppm), NH3 (0-100ppm), CO (0-2000ppm), Cl2 (0-50ppm), ETO (0-500ppm), H2 (0-2000ppm), HCL (0-15ppm), HCN (0-50ppm), HF (0.5-10ppm), H2S (0-1000ppm), O2 (0-30%), SO2 (0-20ppm), NO (0-250ppm), NO2 (0-20ppm), PH3 (0-20ppm), Gamma (0.01 μSv/h to 0.2 mSv/h)
Alarm
Alarm Type

Audible, Visual, Vibrating
Certifications
Standards

US and Canada: Class 1, Division 2, Groups A, B, C, D
Datalogging
Datalogging

Continuous data logging (90 days for 7 gas sensors, 1 Gamma
Features & Benefits
Benefits

Delivers real-time readings to Honeywell's remote monitoring software, so you can instantly determine the location and severity of a threat
Options
User Options

3 operation and programming keys
Warranty
Warranty

Four years for O2 Liquid Oxygen sensors
Additional Specifications
Gas Type

VOC, LEL, CO2, NH3, CO, Cl2, ETO, H2, HCL, HCN, HF, H2S, O2, SO2, NO, NO2, PH3, Gamma
Others
Minimum Temperature

-20 degree Celsius

-4 degree Fahrenheit

Maximum Temperature

140 degree Fahrenheit

60 degree Celsius
Sampling Pump Range : 100ft (30m)
Minimum Temperature : -20 degree Celsius|-4 degree Fahrenheit
Maximum Temperature : 140 degree Fahrenheit|60 degree Celsius
Weight : 14.33 US Pound|6.5 kilogram
Sub-Category : Transportable
Instrument Size : 12.36" x 12.04" x 6.53"
Humidity Range : 0%-95% percent
Sensor Range : VOC (0-2000ppm), LEL (0-100%LEL), CO2 (0-50000ppm), NH3 (0-100ppm), CO (0-2000ppm), Cl2 (0-50ppm), ETO (0-500ppm), H2 (0-2000ppm), HCL (0-15ppm), HCN (0-50ppm), HF (0.5-10ppm), H2S (0-1000ppm), O2 (0-30%), SO2 (0-20ppm), NO (0-250ppm), NO2 (0-20ppm), PH3 (0-20ppm), Gamma (0.01 μSv/h to 0.2 mSv/h)
Alarm Type : Audible, Visual, Vibrating
Battery Run Time : 12-20 hours
Standards : US and Canada: Class 1, Division 2, Groups A, B, C, D
Datalogging : Continuous data logging (90 days for 7 gas sensors, 1 Gamma
Benefits : Delivers real-time readings to Honeywell's remote monitoring software, so you can instantly determine the location and severity of a threat
User Options : 3 operation and programming keys
Warranty : Four years for O2 Liquid Oxygen sensors
Wireless Technology : BLE, MESH, WiFi
Ingress Protection : IP65
Gas Type : VOC, LEL, CO2, NH3, CO, Cl2, ETO, H2, HCL, HCN, HF, H2S, O2, SO2, NO, NO2, PH3, Gamma
Data Sheet
Manuals and Guides
Brochure
Technical Note
White Paper
Application Note
Name
Description
File Size
Date
Size
Name
Description
File Size
Date
Size