Portables
EchoView Host
Real-time remote access to multiple portable gas monitor readings
Overview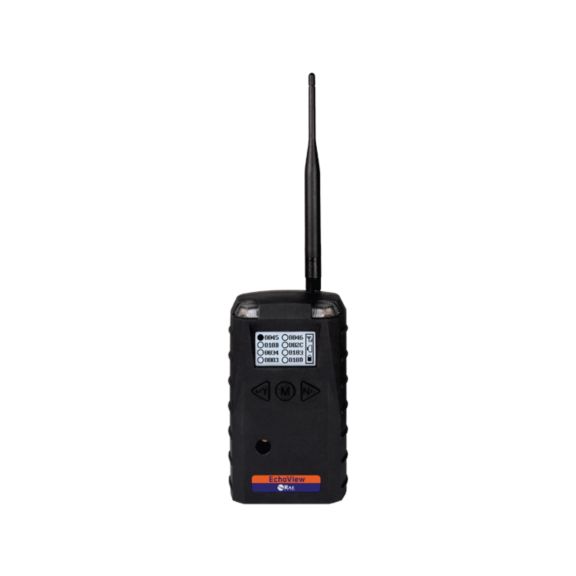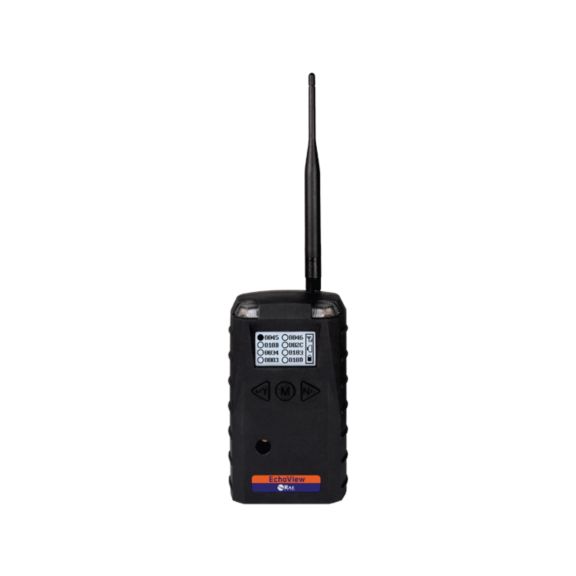 This mini-controller functions as the center for a mobile wireless network of RAE Systems portable gas monitors to increase awareness, improve decision-making, and speed up incident response. The EchoView Host can receive communications from up to eight monitors and display their call names, readings, and alarm status in real time on an easy-to-read screen. With a communication range extendable to over one kilometer using Mesh Routers, the EchoView Host gives safety officers remote access to gas concentration data directly from the hot zone. Water-proof, dust-tight, and intrinsically safe for Class I, Division 1 hazardous environments, it's a rugged device that can run up to 10 days on a single battery.
Features and Benefits:
Central hub for closed-loop wireless solutions
Displays gas readings and alarm status from up to 8 portable monitors
Easy-to-read screen
Range up to 1km (0.6 miles) with mesh routers
Intrinsically safe for Class I, Division 1 hazardous environments
Replaceable battery provides 10-day run time
Rugged water-, dust-, and shock-proof housing
Application:
CBRNE
Clandestine Labs
Confined Space Entry
Emergency Response
Environmental Cleanups/ Remediation
Fire Overhaul
Hazmat Response
Plant Shutdown & Turn-Around
Even the best products deserve expert maintenance!
Elevate your gas detectors' potential with Honeywell's expert maintenance services! Maximize uptime, eliminate costs, and ensure on-time, on-budget project completion.
Explore our fixed, portable, and high-tech support services now!
Certifications
Standards

US and Canada: Class I, Division 1, Groups A, B, C, D, T4
Certifications
Standards

US and Canada: Class I, Division 1, Groups A, B, C, D, T4
Sub-Category : Accessories
Standards : US and Canada: Class I, Division 1, Groups A, B, C, D, T4
Benefits : Stainless Steel housing
Data Sheet
Name
Description
File Size
Date
Size
EchoView Host,EchoView Remote Data Sheet
application/pdf 1023.12 KB
7/15/2021
1023.12 KB
Manuals and Guides
Name
Description
File Size
Date
Size
EchoView Host Manual EN
application/pdf 1.32 MB
7/15/2021
1.32 MB
Certificate
Name
Description
File Size
Date
Size
RM2400A EU Component of Conformity to Certificates
application/pdf 110.56 KB
1/3/2022
110.56 KB
EchoView Host - EU Declaration of Conformity
application/pdf 179.45 KB
7/25/2023
179.45 KB
RM2400 Certificate of Component Conformity
application/pdf 152.57 KB
1/5/2022
152.57 KB
Application Note
Name
Description
File Size
Date
Size
Application Note 200: Photoionizatrion Detectors (PIDS) and Aircraft Wing Entry
application/pdf 892.2 KB
8/4/2021
892.2 KB
Name
Description
File Size
Date
Size
Name
Description
File Size
Date
Size
EchoView Host,EchoView Remote Data Sheet
1023.12 KB
7/15/2021
EchoView Host Manual EN
1.32 MB
7/15/2021
RM2400A EU Component of Conformity to Certificates
110.56 KB
1/3/2022
EchoView Host - EU Declaration of Conformity
179.45 KB
7/25/2023
RM2400 Certificate of Component Conformity
152.57 KB
1/5/2022
Application Note 200: Photoionizatrion Detectors (PIDS) and Aircraft Wing Entry
892.2 KB
8/4/2021

F04-A211-100
EchoView Host Mini-Controller, 900 MHz

F04-AB10-100
EchoView Host, FMC-400, 865.6MHz & 866.4MHz, CSA/ATEX/IECEX, Without Battery, Standard Kit

F04-G310-110
P2P Lcs for MultiRAE Lite and MultiRAE

F04-A211-100
EchoView Host Mini-Controller, 900 MHz

F04-AB10-100
EchoView Host, FMC-400, 865.6MHz & 866.4MHz, CSA/ATEX/IECEX, Without Battery, Standard Kit

F04-G310-110
P2P Lcs for MultiRAE Lite and MultiRAE