Portables
MeshGuard EC
Wireless gas detector with six-month continuous runtime for hazardous environments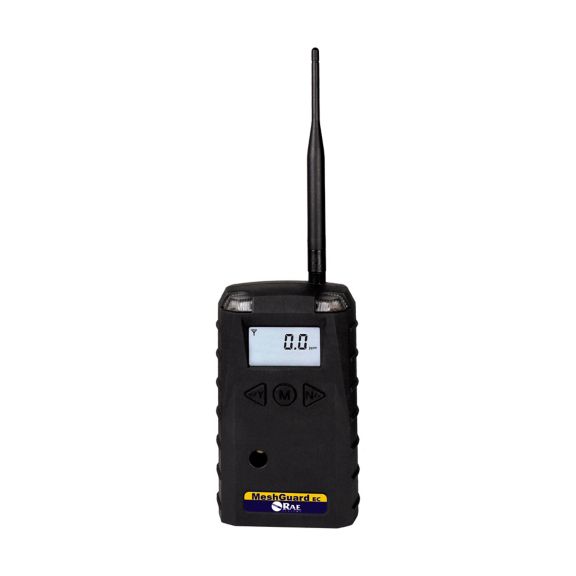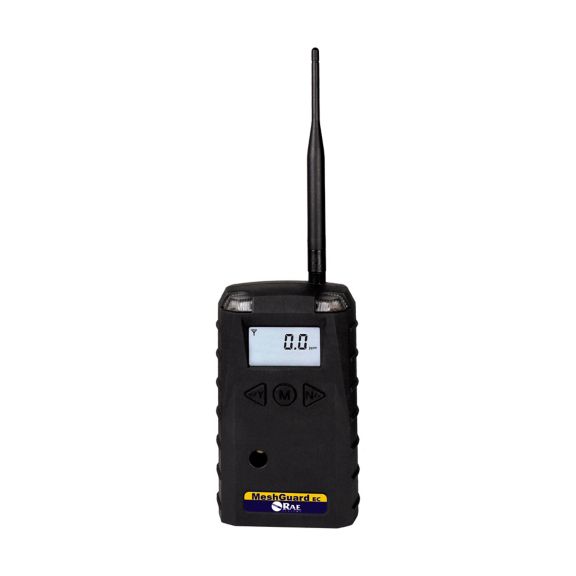 Remotely monitor toxic gases using the most advanced gas detection technology and connected data systems. The wirelessly connected mesh-radio based MeshGuard EC is a core component of the MeshGuard network of connected sensors. MeshGuard EC is rugged, reliable, and designed for rapid deployment. It runs for up to six months on a single battery and provides continuous detection and measurement of potential threats even in hazardous work environments such as oil and gas rigs, industrial sites, and refineries. The MeshGuard EC intelligently finds the best available path to establish a self-forming, self-healing wireless network and delivers all sensor and alarm data to the RAE Systems controller of your choice. The device also displays the information on the large, back-lit LCD screen and has integrated audible and visual alarms. The MeshGuard EC is intrinsically safe, IP-65 rated weather resistant, and certified for the most hazardous, Class 1, Division 1 or Zone environments. Application: • Exploration • Fracking • Plant Shutdown & Turn-Around
Others
Alarm Type

Visual, Audible, Vibrating

Wireless Technology
Minimum Temperature

-40 degree Celsius

-40 degree Fahrenheit

Humidity Range
Benefits

• Stainless Steel housing

Datalogging
Maximum Temperature

50 degree Celsius

122 degree Fahrenheit

Battery Run Time
Standards

US and Canada: Class I, Division 1, Groups A, B, C,D, T4

Weight
Others
Alarm Type

Visual, Audible, Vibrating

Minimum Temperature

-40 degree Celsius

-40 degree Fahrenheit

Benefits

• Stainless Steel housing

Maximum Temperature

50 degree Celsius

122 degree Fahrenheit

Standards

US and Canada: Class I, Division 1, Groups A, B, C,D, T4
Alarm Type : Visual, Audible, Vibrating
Wireless Technology : MESH
Minimum Temperature : -40 degree Celsius|-40 degree Fahrenheit
Benefits : • Stainless Steel housing
Maximum Temperature : 50 degree Celsius|122 degree Fahrenheit
Battery Run Time : 21 days to 6 months
Standards : US and Canada: Class I, Division 1, Groups A, B, C,D, T4
Weight : 0.6 keg|1.3 US Pound
Data Sheet
Manuals and Guides
Technical Note
Certificate
Application Note
Others
Name
Description
File Size
Date
Size

F08-0001-000
RAEPoint, ATEX/IECEX, Remote, 2.4GHz, Standard Kit - Europe

430-0377-004-10
O-ring for filter cover, Pack of 10

300-3002-000
Antenna, Extension, 2.4GHz, SMA Connector (2meter)

F06-3007-000
SolarPak pole/wall mount assembly replacement screws/washers/nuts. Pack of 10.

F03-3014-001
Charger kit, RAE PowerPAK, with US Power cable

D01-3008-000
SENSOR HOUSING ASSY,MG EC

D01-S00C-111
MeshGuard Stainless Steel Detector w/o Battery, Hydrogen chloride HCl Range: 0 to 15 ppm, 1ppm Resolution Disposable batteries needs to be ordered separately. **Note below. Minimum 1 disposable battery is recommended to be ordered seperately.

F01-3010-001
Replacement wall mounting bracket for FMC-2000

F06-0001-000
SolarPak (Solar panel charger for PowerPak with pole/wall mount assembly)

029-5007-100
KIT,RDK HOST CONTROLLER W/O PC,915MHZ