Portables
MicroRAE
Enhanced user-friendliness and flexibility for wireless gas detection
Overview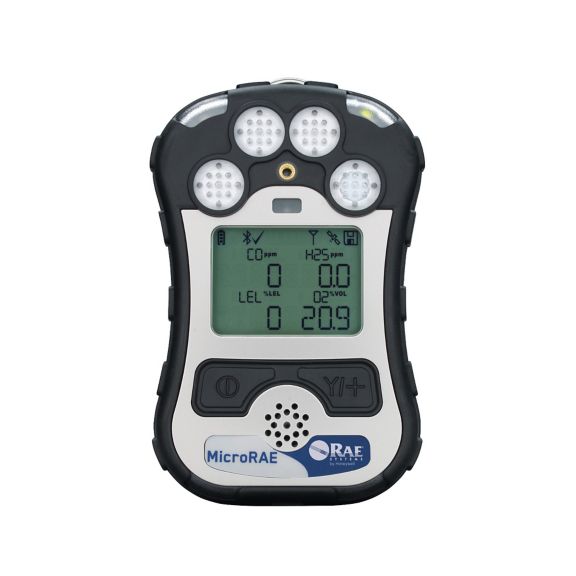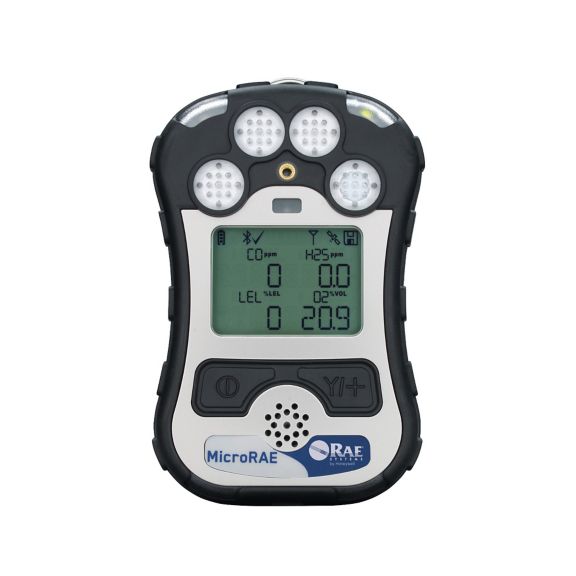 The MicroRAE™ is a wireless multi-gas diffusion monitor that simultaneously measures up to four gases, including hydrogen sulfide, carbon monoxide, oxygen and combustibles (LEL). With its multiple wireless connectivity options the MicroRAE can deliver real-time instrument readings location and alarm status to other wireless solutions such as ConneXt Plus, ConneXt Pro, ConneXt Loneworker and Safety Communicator.
Features and Benefits:
Available with several wireless technology options: Mesh / Wi-Fi / NB-IoT
Real-time gas concentration reading, location, alarm and status enabled by state of-the-art wireless technology
Bluetooth® low energy connection to a Smart Phone device for uplink data communication and device configuration • Compact and lightweight design
IP-67 water- and dust-resistant case Strong, protective, concussion-proof design
Unmistakable five-way local and remote wireless notification of alarm conditions
Short bump test and calibration time
Filtered LEL sensor options to inhibit sensor poisoning
Global approval for worldwide acceptance.
Readily enables to communicate with Motorola MOTOTRBO
Application:
Emergency Response
Exploration
Fire Overhaul
Fracking
Plant Shutdown & Turn-Around
Residential Calls
Urban Search & Rescue
Even the best products deserve expert maintenance!
Elevate your gas detectors' potential with Honeywell's expert maintenance services! Maximize uptime, eliminate costs, and ensure on-time, on-budget project completion.
Explore our fixed, portable, and high-tech support services now!
Dimension & Weight
Instrument Size

4.6 in x 3.0 in (2.6 in) 3.0 in x 0.9 in [117 mm x 76 mm (66) 74 mm x 24 mm]
Range
Humidity Range
Sensor Range

O2 (0-30%vol), LEL (0-100%LEL), CO(0-1000ppm), H2S (0-100ppm), HCN (0-50ppm)
Alarm
Alarm Type

Audible, Visual, Vibrating
Certifications
Standards

US and Canada: Class I, Division 1, Groups A, B, C, D
Datalogging
Datalogging

Continuous datalogging (6 month for 4 sensors at 1-minute intervals)
Features & Benefits
Benefits

Man Down Alarm with real-time remote wireless notification
Options
User Options

Alarms: latching, non latching, or manual override
Warranty
Warranty

2-year warranty on device and sensors (1 year for HCN sensor)
Additional Specifications
Ingress Protection
Gas Type
Others
Minimum Temperature

-20 degree Celsius

-4 degree Fahrenheit

Maximum Temperature

140 degree Fahrenheit

60 degree Celsius
Dimension & Weight
Instrument Size

4.6 in x 3.0 in (2.6 in) 3.0 in x 0.9 in [117 mm x 76 mm (66) 74 mm x 24 mm]
Range
Sensor Range

O2 (0-30%vol), LEL (0-100%LEL), CO(0-1000ppm), H2S (0-100ppm), HCN (0-50ppm)
Alarm
Alarm Type

Audible, Visual, Vibrating
Certifications
Standards

US and Canada: Class I, Division 1, Groups A, B, C, D
Datalogging
Datalogging

Continuous datalogging (6 month for 4 sensors at 1-minute intervals)
Features & Benefits
Benefits

Man Down Alarm with real-time remote wireless notification
Options
User Options

Alarms: latching, non latching, or manual override
Warranty
Warranty

2-year warranty on device and sensors (1 year for HCN sensor)
Additional Specifications
Others
Minimum Temperature

-20 degree Celsius

-4 degree Fahrenheit

Maximum Temperature

140 degree Fahrenheit

60 degree Celsius
Minimum Temperature : -20 degree Celsius|-4 degree Fahrenheit
Maximum Temperature : 140 degree Fahrenheit|60 degree Celsius
Weight : 206 gram|7.03 ounce av
Instrument Size : 4.6 in x 3.0 in (2.6 in) 3.0 in x 0.9 in [117 mm x 76 mm (66) 74 mm x 24 mm]
Humidity Range : 0%-95% percent
Sensor Range : O2 (0-30%vol), LEL (0-100%LEL), CO(0-1000ppm), H2S (0-100ppm), HCN (0-50ppm)
Alarm Type : Audible, Visual, Vibrating
Battery Run Time : 12-15 hours
Standards : US and Canada: Class I, Division 1, Groups A, B, C, D
Datalogging : Continuous datalogging (6 month for 4 sensors at 1-minute intervals)
Benefits : Man Down Alarm with real-time remote wireless notification
User Options : Alarms: latching, non latching, or manual override
Warranty : 2-year warranty on device and sensors (1 year for HCN sensor)
Wireless Technology : MESH, BLE, WiFi, NBIoT
Ingress Protection : IP67
Gas Type : O2, LEL, CO, H2S, HCN
Data Sheet
Manuals and Guides
Firmware
Brochure
Technical Note
Certificate
Application Note
Others
Name
Description
File Size
Date
Size
Name
Description
File Size
Date
Size

002-3013-000
Wrist strap

003-3004-000
Automotive charging adapter 12 VDC

310-0156-000
REPLACEMENT LCD MODULE, MICRORAE

500-0036-102
AC adapter with international prong kit (for single-unit charging and PC comm's cradle)

M03-0300-000
Gang charger (with Power Adaper,AC/DC,90-264V Input,12VDC/3A Output)**

M03-0301-000
Cradle charger*

M03-0302-000
Kit,Truck Mount Charging Cradle for MicroRAE***

M03-1010-000
PCB ASSY,MAIN PCB,PGM2600

M03-1011-001
PCB ASSY,BLE PCB,PGM2600

M03-1011-002
PCB ASSY,MESH +GPS +BLE PCB,PGM2600

002-3013-000
Wrist strap

003-3004-000
Automotive charging adapter 12 VDC

310-0156-000
REPLACEMENT LCD MODULE, MICRORAE

500-0036-102
AC adapter with international prong kit (for single-unit charging and PC comm's cradle)

M03-0300-000
Gang charger (with Power Adaper,AC/DC,90-264V Input,12VDC/3A Output)**

M03-0301-000
Cradle charger*

M03-0302-000
Kit,Truck Mount Charging Cradle for MicroRAE***

M03-1010-000
PCB ASSY,MAIN PCB,PGM2600

M03-1011-001
PCB ASSY,BLE PCB,PGM2600

M03-1011-002
PCB ASSY,MESH +GPS +BLE PCB,PGM2600