Cut Resistant Gloves
Coreshield DOUBLE Cut Resistant Gloves 13GBB A3/C 3/4
ULTIMATE CUT PROTECTION AND GRIP, IN EXTREMELY OILY ENVIRONMENTS
Overview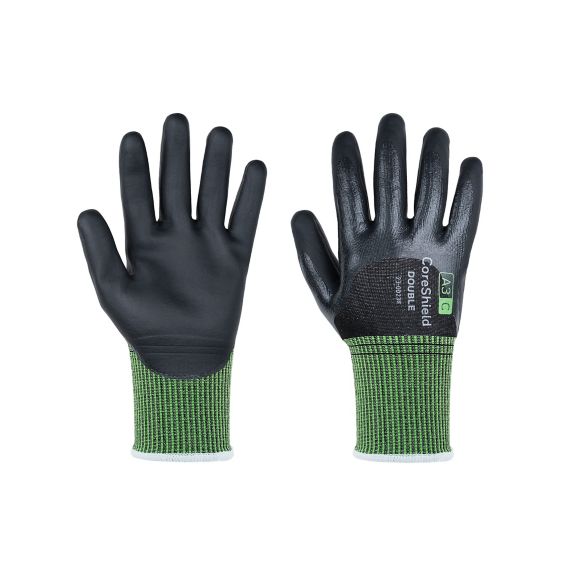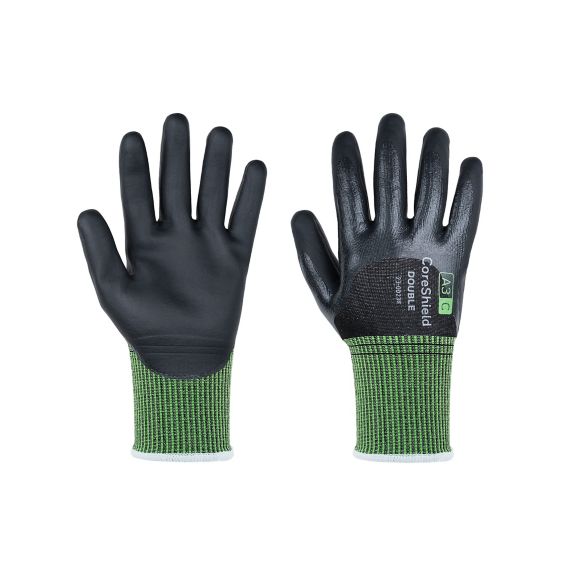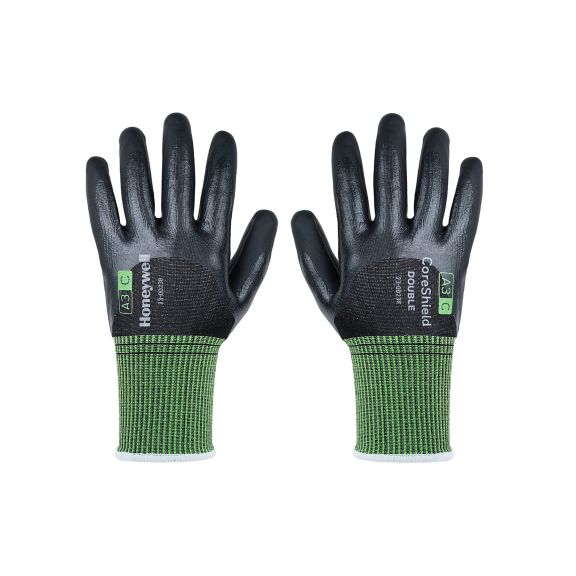 Does wearing cut-protective gloves for oily work environments cause greasy, sweated, or itchy hands? This is a matter of the past. The new Honeywell CoreShield Double gloves have brought
cut protection in oily environments to the next level — no liquids on hands, reduced sweat, bacteria and bad odors. Take hold of total safety, top-notch grip and improved comfort.
.
FEATURES:
• Cut protection level from A/A1 to D/A4
• Enhanced grip performance
• Great abrasion performance
• 100% water and oil repellent*
• Anti-odor features
• Antimicrobial properties
• Breathable**
• Sweat absorption for fully coated styles
*) The palm coated, the ¾ coated
and the fully coated models are liquid repellent.
**) The textile looping structure is breathable.
.
Others
Size
Protection against radioactive contamination (EN 421)
Protection against microorganisms (EN ISO 374-5)
Protection against electrical voltages EN 60903
Protection against ionising radiation (EN 421)
Arc flash protection EN 61482-1-2
Liquid Permeation Resistance
ISO 13997 Cut Protection
Touchscreen Compatible
Pesticides (ISO 18889)
Mechanical Protection
Cut Resistance EN 388
Clean Room Capability
Virus (EN ISO 374-5)
Antistatics EN 16350
Puncture Resistance
Abrasion Resistance
Food certification
Impact Resistance
Coating Material
Coating Coverage
Tear Resistance
Size Range From
Protection Type
Lining Material
Product Family
Powder Content
Cut Resistance
Coating Finish
Size Range To
Silicone Free
Coating Color
PPE Category
OEKO-TEX 100
Glove Gauge
Cuff Length
Wrist Type
Velourised
Glove Type
Cuff Style
Standards

EN 420, EN 388, ANSI/ISEA 105

Packaging
Washable
Material

Basaltfiber, Elastan, HPPE, Spandex, Polyester, nitrile, nitrile-microfoam

Benefits
Color 
Length
Coated
Style
Brand
Others
Protection against radioactive contamination (EN 421)

Protection against microorganisms (EN ISO 374-5)

Protection against electrical voltages EN 60903

Protection against ionising radiation (EN 421)

Arc flash protection EN 61482-1-2

Liquid Permeation Resistance

Standards

EN 420, EN 388, ANSI/ISEA 105

Material

Basaltfiber, Elastan, HPPE, Spandex, Polyester, nitrile, nitrile-microfoam
Size : 6, 7, 8, 9, 10, 11
Protection against radioactive contamination (EN 421) : N
Protection against microorganisms (EN ISO 374-5) : N
Protection against electrical voltages EN 60903 : N
Protection against ionising radiation (EN 421) : N
Arc flash protection EN 61482-1-2 : N
Liquid Permeation Resistance : Yes
ISO 13997 Cut Protection : C
Touchscreen Compatible : N
Pesticides (ISO 18889) : N
Mechanical Protection : Y
Cut Resistance EN 388 : X
Clean Room Capability : N
Coating Material : Nitrile microfoam
Protection Type : Cut protection
Lining Material : HPPE, basalt
Product Family : CoreShield Double
Coating Finish : Micro-foam
Wrist Type : Extended Wrist
Glove Type : Cut protection
Standards : EN 420, EN 388, ANSI/ISEA 105
Material : Basaltfiber, Elastan, HPPE, Spandex, Polyester, nitrile, nitrile-microfoam
Benefits : Cut Protection
Data Sheet
Name
Description
File Size
Date
Size
Coreshield Double Datasheet
application/pdf 356.81 KB
7/15/2021
356.81 KB
Manuals and Guides
Name
Description
File Size
Date
Size
Honeywell Gloves Coating Guide
application/pdf 1.28 MB
10/11/2023
1.28 MB
Brochure
Name
Description
File Size
Date
Size
Get A Grip On Top Performance Brochure
application/pdf 641.42 KB
7/15/2021
641.42 KB
Name
Description
File Size
Date
Size
Get A Grip On Top Performance Brochure
641.42 KB
7/15/2021
641.42 KB
Honeywell Gloves Coating Guide
1.28 MB
10/11/2023
1.28 MB
Coreshield Double Datasheet
356.81 KB
7/15/2021
356.81 KB
Name
Description
File Size
Date
Size
Coreshield Double Datasheet
356.81 KB
7/15/2021
Honeywell Gloves Coating Guide
1.28 MB
10/11/2023
Get A Grip On Top Performance Brochure
641.42 KB
7/15/2021