Glovebox Gloves
Neoprene Glovebox Gloves
Neoprene Glovebox Gloves
Overview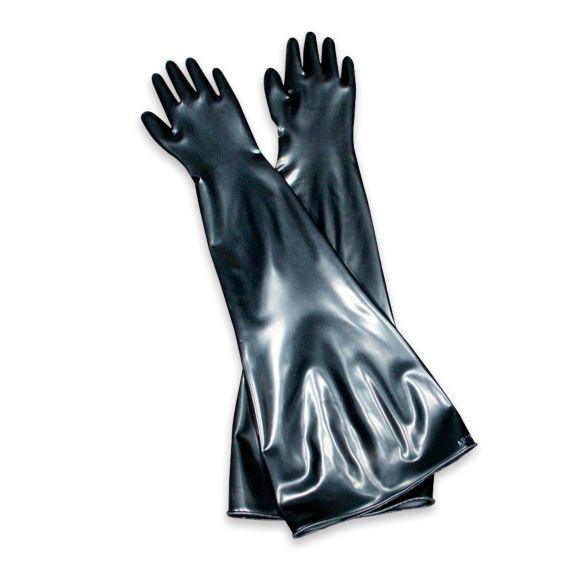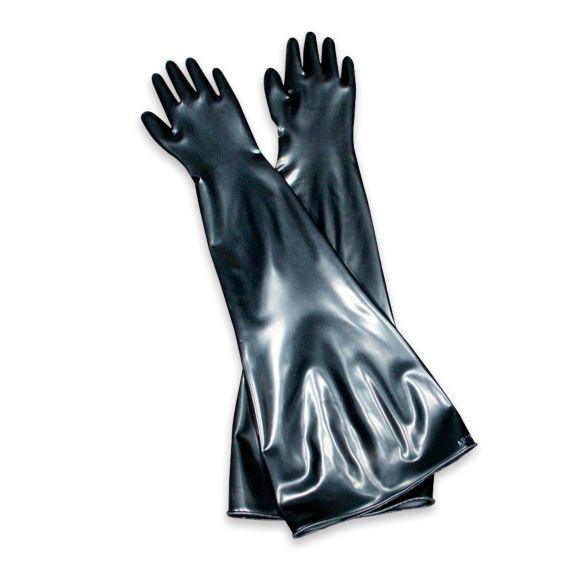 New premium quality safety gloves with protection against chemical and radioactive contamination and improved comfort and grip. Manufactured with technology that minimizes solvent use.
.
.
FEATURES & BENEFITSProductivity and efficiency
better grip for handling small objects in oily and wet environments
increased productivity and reduced fatigue
.
Premium quality protection
enhanced mechanical performance
enhanced permeation resistance to vapors and gases
resistant to a broad range of chemicals: oils: greases and fuels
Excellent comfort
much softer and flexible than current models
ambidextrous or hand specific.
INDUSTRIES:
• Pharmaceutical
• Military
• Medical
• Nuclear
.
Available sizes: 5, 6, 7, 8, 10 in port. Multi hand sizes.
Others
Size
Protection against radioactive contamination (EN 421)
Protection against microorganisms (EN ISO 374-5)

Schutz vor Bakterien, Pilzen und Viren

Protection against electrical voltages EN 60903
Protection against ionising radiation (EN 421)

radioaktive Kontamination

Arc flash protection EN 61482-1-2
Chemical Permeation Resistance

AKLMOT minute (time unit)

Test chemicals (EN ISO 374-1)
ISO 13997 Cut Protection
Touchscreen Compatible
Pesticides (ISO 18889)
Cut Resistance EN 388
Clean Room Capability
Virus (EN ISO 374-5)
Antistatics EN 16350
Type (EN ISO 374-1)
Puncture Resistance
Abrasion Resistance
Food certification
Impact Resistance
Tear Resistance
Size Range From
Protection Type
Product Family
Powder Content
Size Range To
Silicone Free
PPE Category
OEKO-TEX 100
Velourised
Glove Type
Standards

EN ISO 374-1

EN ISO 374-5

EN 388

EN 420

EN 421

Washable
Material
Sterile
Color 
Style
Brand
Others
Protection against radioactive contamination (EN 421)

Protection against microorganisms (EN ISO 374-5)

Schutz vor Bakterien, Pilzen und Viren

Protection against electrical voltages EN 60903

Protection against ionising radiation (EN 421)

radioaktive Kontamination

Arc flash protection EN 61482-1-2

Chemical Permeation Resistance

AKLMOT minute (time unit)

Test chemicals (EN ISO 374-1)

Standards

EN ISO 374-1

EN ISO 374-5

EN 388

EN 420

EN 421
Protection against radioactive contamination (EN 421) : N
Protection against microorganisms (EN ISO 374-5) : Schutz vor Bakterien, Pilzen und Viren
Protection against electrical voltages EN 60903 : N
Protection against ionising radiation (EN 421) : radioaktive Kontamination
Arc flash protection EN 61482-1-2 : N
Chemical Permeation Resistance : AKLMOT minute (time unit)
Test chemicals (EN ISO 374-1) : AKLMOT
ISO 13997 Cut Protection : X
Touchscreen Compatible : N
Pesticides (ISO 18889) : N
Cut Resistance EN 388 : 1
Clean Room Capability : N
Type (EN ISO 374-1) : Typ A
Protection Type : Glovebox
Product Family : Glovebox Neopren
Standards : EN ISO 374-1 | EN ISO 374-5 | EN 388 | EN 420 | EN 421
Data Sheet
Name
Description
File Size
Date
Size
Neoprene Glovebox Gloves - Data Sheet
application/pdf 1007.94 KB
11/9/2021
1007.94 KB
Name
Description
File Size
Date
Size
Neoprene Glovebox Gloves - Data Sheet
1007.94 KB
11/9/2021
1007.94 KB
Name
Description
File Size
Date
Size

8N1532AK/10H
8N1532AK

8N1532AK/9Q
8N1532AK

8N1532K/10H
8N1532K

8N1532K/9Q
8N1532K

8N3032AK/10H
8N3032AK

8N3032AK/9Q
8N3032AK

8N3032K/10H
8N3032

8N3032K/9Q
8N3032

8N1532AK/10H
8N1532AK

8N1532AK/9Q
8N1532AK

8N1532K/10H
8N1532K

8N1532K/9Q
8N1532K

8N3032AK/10H
8N3032AK

8N3032AK/9Q
8N3032AK

8N3032K/10H
8N3032

8N3032K/9Q
8N3032