Heat Resistant Gloves
North Grip N® Hot Mill
North Grip N® Hot Mill
Overview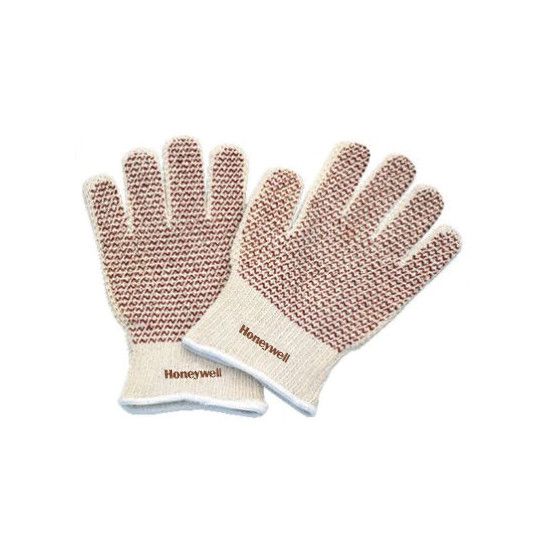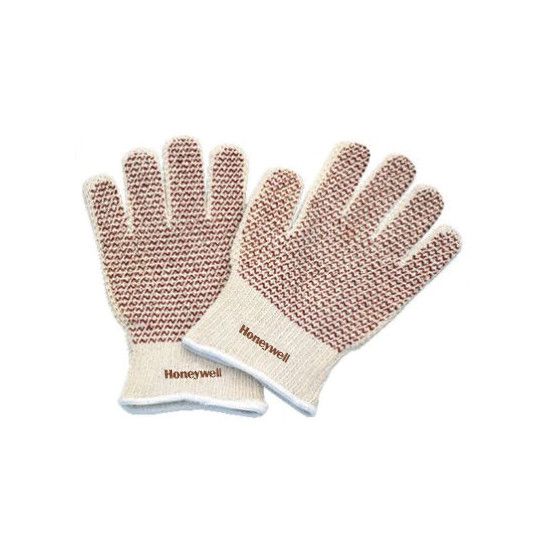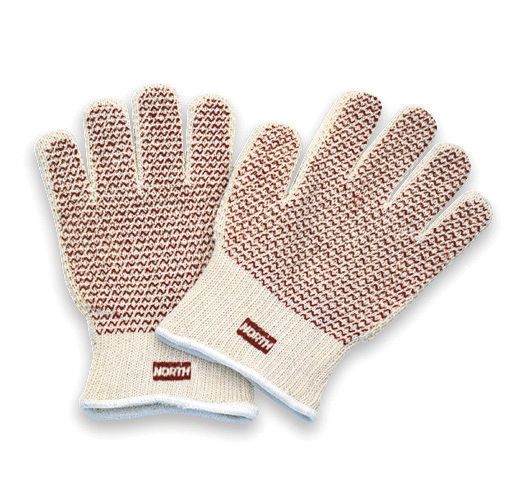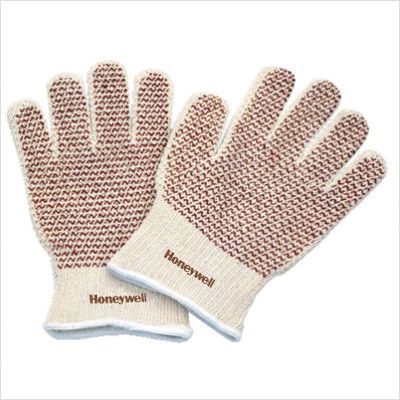 Handling of very hot objects with a good grip and comfort.
Features & Benefits:
100% knitted cotton glove lined with cotton glove Double face coating of nitrile dots Ambidextrous.
COMFORT
The knitting technique helps to obtain a glove that conforms snugly to the hand with good dexterity.
The glove offers maximum comfort and added sturdiness.
The glove is ambidextrous and thus more cost-effective.
The cotton lining reinforces the glove's mechanical performance while absorbing hand perspiration for added comfort.
The double face coating in nitrile brings a good grip and is more econmic as ambidextrous.
RESISTANCE
The Cotton increases the glove's cutting resistance and thermal resistance (contact heat).
The quality of the materials used creates an effective barrier against heavy and sharp parts.
Available sizes: One size
Others
Brand
Protection against radioactive contamination (EN 421)
Protection against microorganisms (EN ISO 374-5)
Protection against electrical voltages EN 60903
Protection against ionising radiation (EN 421)
Arc flash protection EN 61482-1-2
Touchscreen Compatible
Pesticides (ISO 18889)
Mechanical Protection
Clean Room Capability
Virus (EN ISO 374-5)
Antistatics EN 16350
Maximum Temperature
Abrasion Resistance
Food certification
Impact Resistance
Tear Resistance
Protection Type
Product Family

CRYSTAL S REINFORCED SIZE 9

Powder Content
Silicone Free
OEKO-TEX 100
Grip Pattern
Glove Gauge
Velourised
Glove Type
Washable
Material
Style
Others
Protection against radioactive contamination (EN 421)

Protection against microorganisms (EN ISO 374-5)

Protection against electrical voltages EN 60903

Protection against ionising radiation (EN 421)

Arc flash protection EN 61482-1-2

Product Family

CRYSTAL S REINFORCED SIZE 9
Protection against radioactive contamination (EN 421) : N
Protection against microorganisms (EN ISO 374-5) : N
Protection against electrical voltages EN 60903 : N
Protection against ionising radiation (EN 421) : N
Arc flash protection EN 61482-1-2 : N
Touchscreen Compatible : N
Pesticides (ISO 18889) : N
Mechanical Protection : Y
Clean Room Capability : N
Maximum Temperature : 400
Protection Type : Heat protection
Product Family : CRYSTAL S REINFORCED SIZE 9
Grip Pattern : Nitrile "N" pattern
Glove Type : Heat protection
Data Sheet
Name
Description
File Size
Date
Size
Hand Grip N Hot Miller Glove Data Sheet
application/pdf 50.22 KB
11/24/2022
50.22 KB
Others
Name
Description
File Size
Date
Size
Cet article est mis sur le marché par:Groupe BACOU- DALLOZZI PARIS NORD II - BP 5039895943 ROISSY CDG CedexFRANCE
application/pdf 872.23 KB
7/15/2021
872.23 KB
AET_51-7147_Honeywell 2012.pdf
application/pdf 536.77 KB
7/15/2021
536.77 KB
Name
Description
File Size
Date
Size
Cet article est mis sur le marché par:Groupe BACOU- DALLOZZI PARIS NORD II - BP 5039895943 ROISSY CDG CedexFRANCE
872.23 KB
7/15/2021
872.23 KB
Hand Grip N Hot Miller Glove Data Sheet
50.22 KB
11/24/2022
50.22 KB
AET_51-7147_Honeywell 2012.pdf
536.77 KB
7/15/2021
536.77 KB
Name
Description
File Size
Date
Size
Hand Grip N Hot Miller Glove Data Sheet
50.22 KB
11/24/2022
Cet article est mis sur le marché par:Groupe BACOU- DALLOZZI PARIS NORD II - BP 5039895943 ROISSY CDG CedexFRANCE
872.23 KB
7/15/2021
AET_51-7147_Honeywell 2012.pdf
536.77 KB
7/15/2021

51/7147
7 Cotton Natural Nitrile Double-sided Rust

51/7147C
7 Cotton Natural Nitrile Double-sided Rust

51/7147U
ULINE GLOVE GRIP-N H/MILL 7/7 GG

51/7147V
7 Cotton Natural Nitrile Double-sided Rust

51/7147
7 Cotton Natural Nitrile Double-sided Rust

51/7147C
7 Cotton Natural Nitrile Double-sided Rust

51/7147U
ULINE GLOVE GRIP-N H/MILL 7/7 GG

51/7147V
7 Cotton Natural Nitrile Double-sided Rust