Hard Hats
E-2 Cap
Workers can enjoy the protection and comfort of Fibre-Metal® SuperEight™ head protection with the added protection of super high visibility.
Overview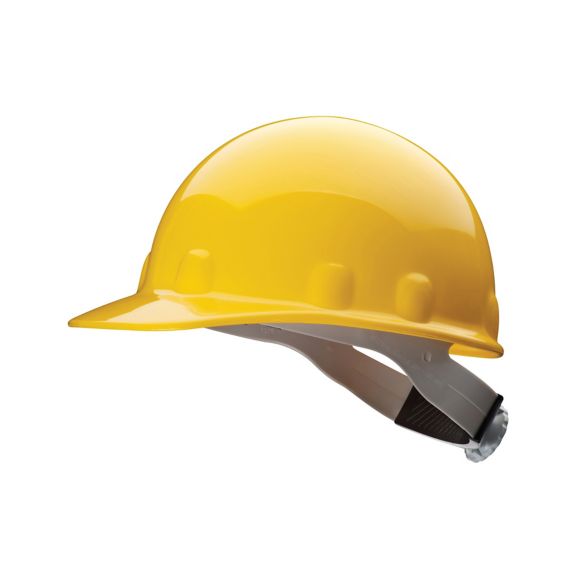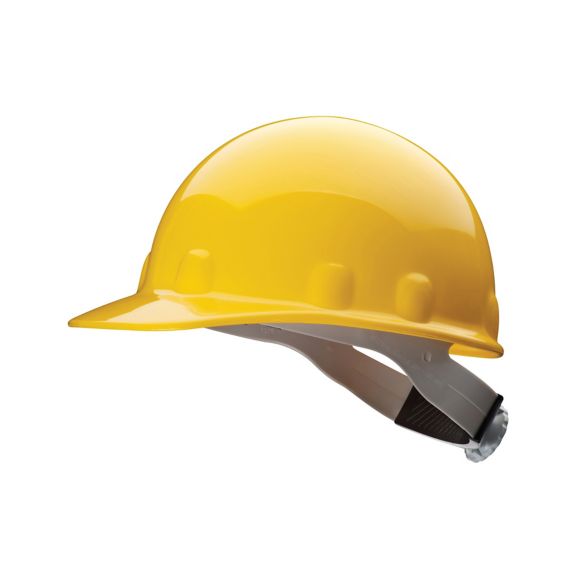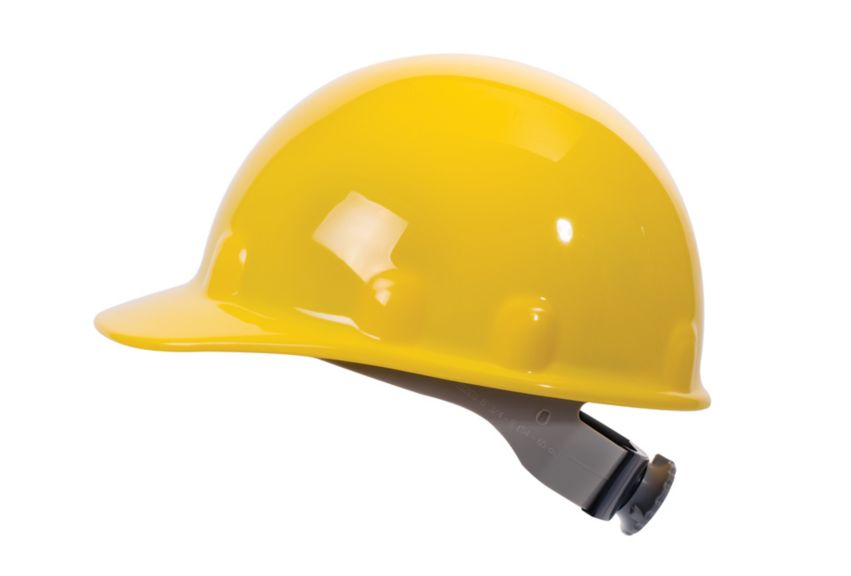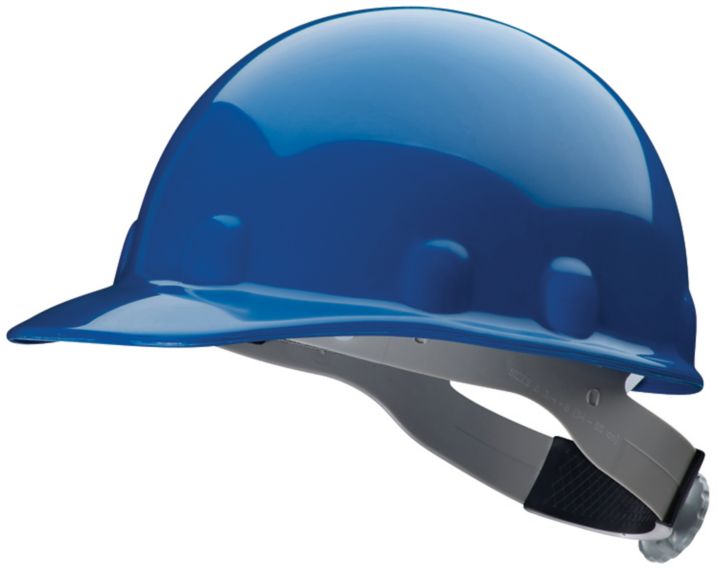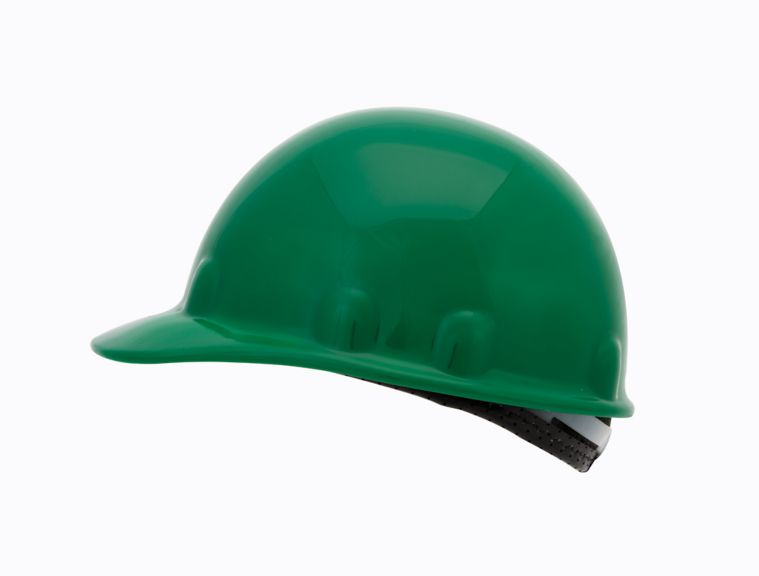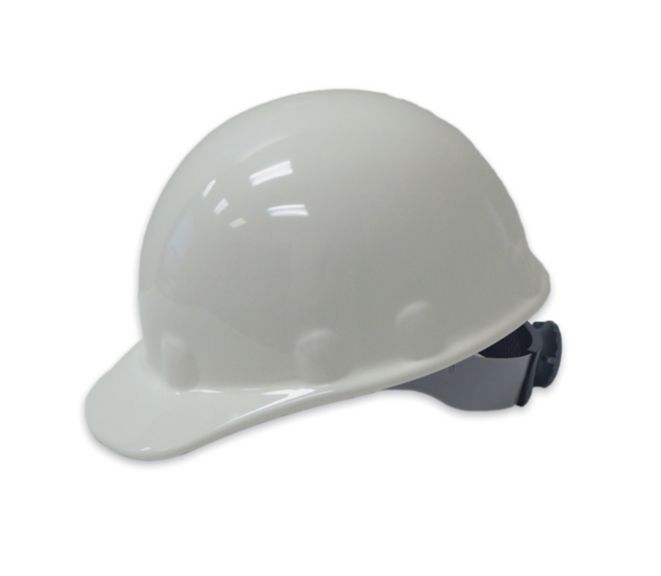 The exclusive smooth crown design contains a technically advanced suspension with eight load bearing points to stabilize and balance the hard hat during everyday wear. On impact, the SuperEight impact energy control system dissipates force by reducing it to smaller increments and spreading it over a greater area.
Fibre-Metal® SuperEight™ SwingStrap™ hats and caps are the most sophisticated head protection system available. They are the only hats and caps that combine the exceptional comfort of a 360° padded sweatband with the head hugging stability and easy adjustment of a ratchet headband.
When a welding helmet, faceshield or goggle are mounted on SuperEight™ SwingStrap™ caps, workers can convert their cap from the normal wearing position (and back) with the patented SwingStrap™ without having to remove, reverse and reinstall the suspension headband. All Fibre-Metal® SuperEight™ Thermoplastic protective hats and caps are SEI certified to ANSI Z89 in both the forward and reverse positions.
All Fibre-Metal® SuperEight™ protective hats and caps contain the same protective performance and comfort package as the SwingStrap™ series.

Features & Benefits:

Meets ANSI-Z89.1
TYPE 1, Class E, G, or C.

Others
Brim
Suspension Type
Shell Material

Superlectric Thermoplastic gram

Standards

ANSI-Z89.1 TYPE 1, Class E, G, or C gram
Others
Shell Material

Superlectric Thermoplastic gram

Standards

ANSI-Z89.1 TYPE 1, Class E, G, or C gram
Suspension Type : 8-Point gram
Shell Material : Superlectric Thermoplastic gram
Standards : ANSI-Z89.1 TYPE 1, Class E, G, or C gram
SKUs

E2QRW01A000
Honeywell White Fibre Metal SuperEight Thermoplastic Cap Style Hard Hat With 8 Point Ratchet Suspension

E2QRW02A000
Honeywell Yellow Fibre Metal SuperEight Thermoplastic Cap Style Hard Hat With 8 Point Ratchet Suspension

E2QRW03A000
Cap Style Hard Hat With 3RW2 Ratchet Headband, 8 Pt. Suspension, Quick Lok Blocks, Superlectric Thermoplastic, Class G, C, Type 1

E2QRW09A000
Honeywell Gray Fibre Metal SuperEight Thermoplastic Cap Style Hard Hat With 8 Point Ratchet Suspension

E2QRW11A000
Honeywell Black Fibre Metal SuperEight Thermoplastic Cap Style Hard Hat With 8 Point Ratchet Suspension

E2QRW15A000
Cap Style Hard Hat With 3RW2 Ratchet Headband, 8 Pt. Suspension, Quick Lok Blocks, Superlectric Thermoplastic, Class G, C, Type 1

E2QRW46A000
Cap Style Hard Hat With 3RW2 Ratchet Headband, 8 Pt. Suspension, Quick Lok Blocks, Superlectric Thermoplastic, Class G, C, Type 1

E2QRW71A000
Honeywell Blue Fibre Metal SuperEight Thermoplastic Cap Style Hard Hat With 8 Point Ratchet Suspension

E2QRW74A000
Cap Style Hard Hat With 3RW2 Ratchet Headband, 8 Pt. Suspension, Quick Lok Blocks, Superlectric Thermoplastic, Class G, C, Type 1

E2QSW01A000
Cap Style Hard Hat With 3SW2 Swingstrap Headband, 8 Pt. Suspension, Quick Lok Blocks, Superlectric Thermoplastic, Class G, C, Type 1

E2QRW01A000
Honeywell White Fibre Metal SuperEight Thermoplastic Cap Style Hard Hat With 8 Point Ratchet Suspension

E2QRW02A000
Honeywell Yellow Fibre Metal SuperEight Thermoplastic Cap Style Hard Hat With 8 Point Ratchet Suspension

E2QRW03A000
Cap Style Hard Hat With 3RW2 Ratchet Headband, 8 Pt. Suspension, Quick Lok Blocks, Superlectric Thermoplastic, Class G, C, Type 1

E2QRW09A000
Honeywell Gray Fibre Metal SuperEight Thermoplastic Cap Style Hard Hat With 8 Point Ratchet Suspension

E2QRW11A000
Honeywell Black Fibre Metal SuperEight Thermoplastic Cap Style Hard Hat With 8 Point Ratchet Suspension

E2QRW15A000
Cap Style Hard Hat With 3RW2 Ratchet Headband, 8 Pt. Suspension, Quick Lok Blocks, Superlectric Thermoplastic, Class G, C, Type 1

E2QRW46A000
Cap Style Hard Hat With 3RW2 Ratchet Headband, 8 Pt. Suspension, Quick Lok Blocks, Superlectric Thermoplastic, Class G, C, Type 1

E2QRW71A000
Honeywell Blue Fibre Metal SuperEight Thermoplastic Cap Style Hard Hat With 8 Point Ratchet Suspension

E2QRW74A000
Cap Style Hard Hat With 3RW2 Ratchet Headband, 8 Pt. Suspension, Quick Lok Blocks, Superlectric Thermoplastic, Class G, C, Type 1

E2QSW01A000
Cap Style Hard Hat With 3SW2 Swingstrap Headband, 8 Pt. Suspension, Quick Lok Blocks, Superlectric Thermoplastic, Class G, C, Type 1