Earplugs
Fusion® Detectable
Protection, comfort and enhanced fit for reusable and detectable earplugs NRR 25
Overview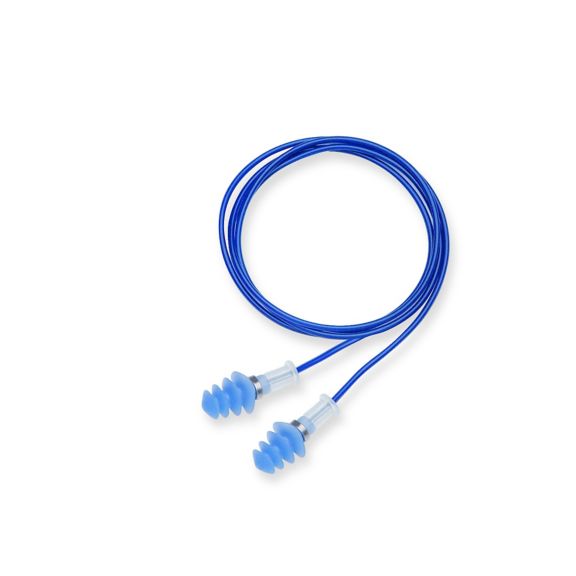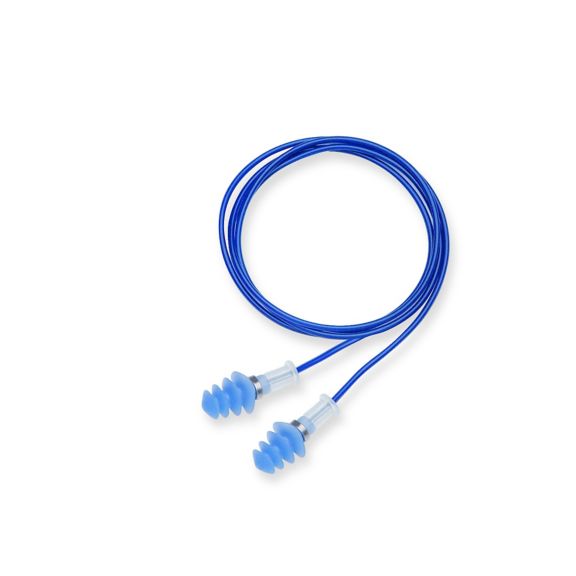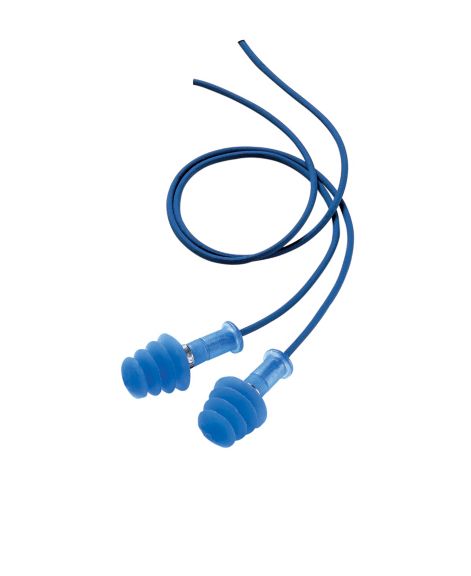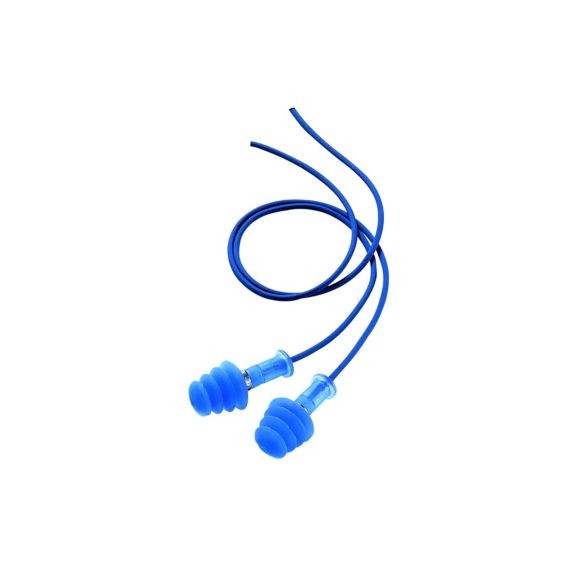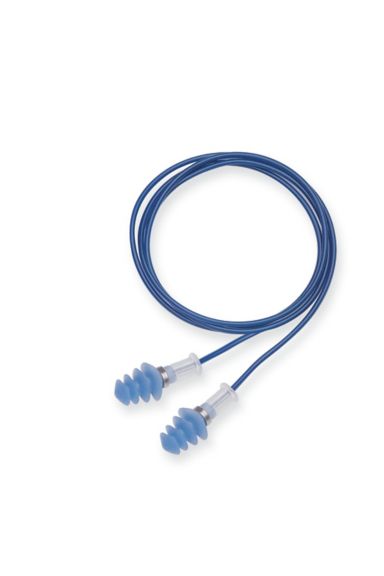 All-day comfort and easy handling for a detectable reusable plug. Central FlexiFirm® stem for ease of insertion, SoftFlanges™ for exceptional comfort and fit.
Patented dual material design
Attached cord and metal stem ring easily detected by automated equipment
Blue color provides high visibility in detection
Two sizes fine-tune fit for personal comfort and safety
Inspect: Prior to fitting, examine your earplugs for dirt, damage, deformation, or extreme hardness.
Discard: Discard immediately if earplugs are compromised.
Hygiene: Wash reusable earplugs with mild soap and warmwater only. Pat dry with a towel and store when not in use. Do not treat with any other substances, as the earplugs may degrade and compromise effectiveness. With proper maintenance, reusable earplugs can be used daily for 2-4 weeks.
Fitting a reusable earplug:
While holding the stem, reach a hand over your head and gently pull top of your ear up and back.
Insert the earplug so all flanges are well inside your ear canal.
If properly fitted, the tip of the earplug stem may be visible to someone looking at you from the front.
Improper fit of this device will reduce its effectiveness in attenuating noise. Refer to instructions on package for proper fit.
Recommended Industries/Use: Food & Beverage Manufacturing, Pulp & Paper, Cannabis.
Others
Material
Noise Reduction Rating
Single Number Rating
High Visibility
Earplug Shape
Earplug Size
Canada Class
Reusability
Detectable
Noise Reduction Rating : 25 decibel|25
Single Number Rating : 28
Manuals and Guides
Name
Description
File Size
Date
Size
Hearing Protection Mini Guide
application/pdf 7.21 MB
11/16/2023
7.21 MB
Others
Name
Description
File Size
Date
Size
HL_fusion_detectable_earplug_fusion-detectable-earplug.pdf
application/pdf 94.99 KB
7/15/2021
94.99 KB
HL_fusion_detectable_earplug_ppb03153_r1.0_fu_insert.pdf
application/pdf 1.8 MB
7/15/2021
1.8 MB
Name
Description
File Size
Date
Size
HL_fusion_detectable_earplug_fusion-detectable-earplug.pdf
94.99 KB
7/15/2021
94.99 KB
Hearing Protection Mini Guide
7.21 MB
11/16/2023
7.21 MB
HL_fusion_detectable_earplug_ppb03153_r1.0_fu_insert.pdf
1.8 MB
7/15/2021
1.8 MB
Name
Description
File Size
Date
Size
Hearing Protection Mini Guide
7.21 MB
11/16/2023
HL_fusion_detectable_earplug_fusion-detectable-earplug.pdf
94.99 KB
7/15/2021
HL_fusion_detectable_earplug_ppb03153_r1.0_fu_insert.pdf
1.8 MB
7/15/2021

FDT-30
Honeywell Howard Leight Fusion® Tapered TPE Steel Detectable Corded Earplugs

FDT-30-SM
Honeywell Howard Leight Fusion® Tapered TPE Steel Detectable Corded Earplugs

FDT-30
Honeywell Howard Leight Fusion® Tapered TPE Steel Detectable Corded Earplugs

FDT-30-SM
Honeywell Howard Leight Fusion® Tapered TPE Steel Detectable Corded Earplugs