Electronic Earmuffs
Sync® Stereo
Sync® Stereo Earmuffs are designed to provide superior stereo sound quality; use as passive hearing protector or as stereo earmuffs; no volume knobs or power switches to coordinate nor batteries to replace.
Overview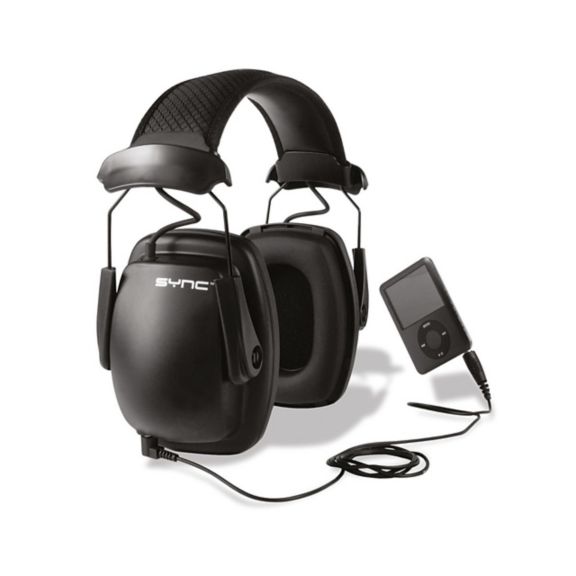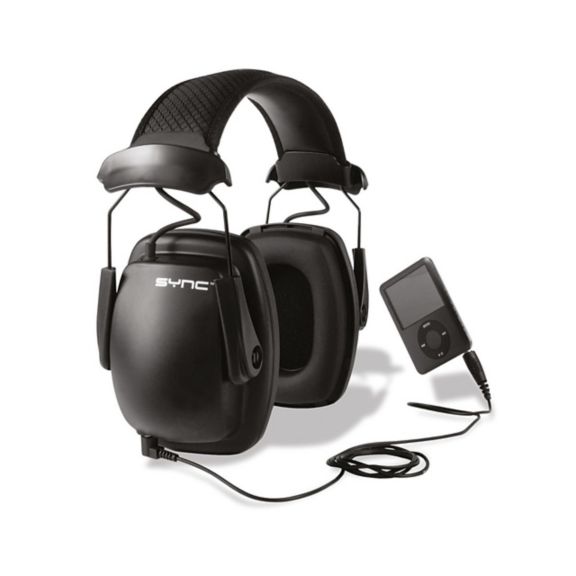 Patented Air Flow Control technology reduces sound across all frequencies without increasing earcup size or weight; includes multiple attenuation levels
Lightweight earcup design and padded headband with reinforced fork slides provide comfortable all-day wear at work
Snap-in ear cushions allow for easy maintenance and replacement; includes 3.5 mm AUX input jack and connection cable for use with any mp3 player or mobile device
NRR: 25, SNR: 31, Canada Class (L)
Earmuff Fitting & Maintenance Recommendations
Selection:
Avoid overprotection in minimal noise environments – in selecting the best earmuff for your situation, consider noise levels and your need to communicate with co-workers or hear warning signals on the job
Inspect & wear:
Read and follow all earmuff fitting instructions
Remove all hair underneath ear cushions.
Hygiene & maintenance:
Regularly inspect earcups and ear cushions for cracks and leaks – discard if earcups are visibly damaged or compromised
Clean earcups and ear cushions regularly with mild soap and water
Replace ear cushions and foam inserts every 6-8 months under normal wear, every 3-4 months with heavy use or in humid/extreme climates
Improper fit of this device will reduce its effectiveness in attenuating noise. Refer to instructions on package for proper fit.
Recommended Industries/Use
Agriculture, Chemical, Construction, Fire Protection, Forestry, Government, Law Enforcement, Manufacturing, Medical, Military, Mining, Municipal Services, Oil and Gas, Pharmaceutical, Steel and Metals, Transportation, Utilities, Welding.
Others
Dielectric
Noise Reduction Rating
Single Number Rating
Care and Maintenance
Ear Shell Material
Headband Material

Steel wire, EVA, PVC, Textile

High Visibility
Product Family
Canada Class
Others
Headband Material

Steel wire, EVA, PVC, Textile
Noise Reduction Rating : 25 decibel
Single Number Rating : 31 decibel
Care and Maintenance : see overview tab
Headband Material : Steel wire, EVA, PVC, Textile

1030110
Honeywell Howard Leight Sync® Black Over-the-Head Stereo Earmuffs

1030110
Honeywell Howard Leight Sync® Black Over-the-Head Stereo Earmuffs