Boots
Oliver 45 Series 9" Lace-Up Composite Toe
Oliver 45 Series 9' Lace-Up Composite Toe MT EH
Overview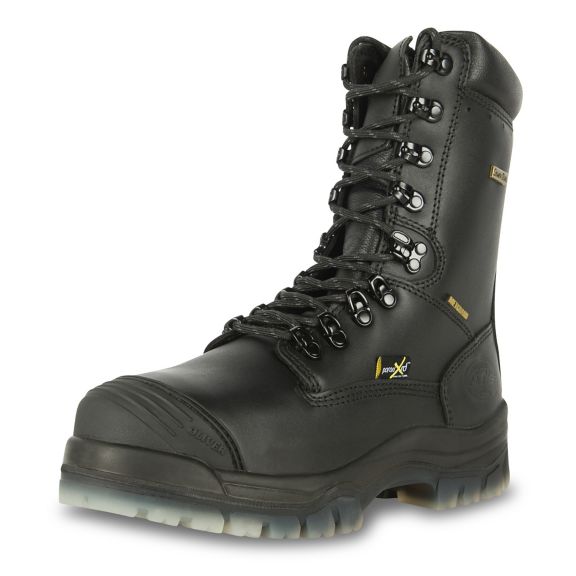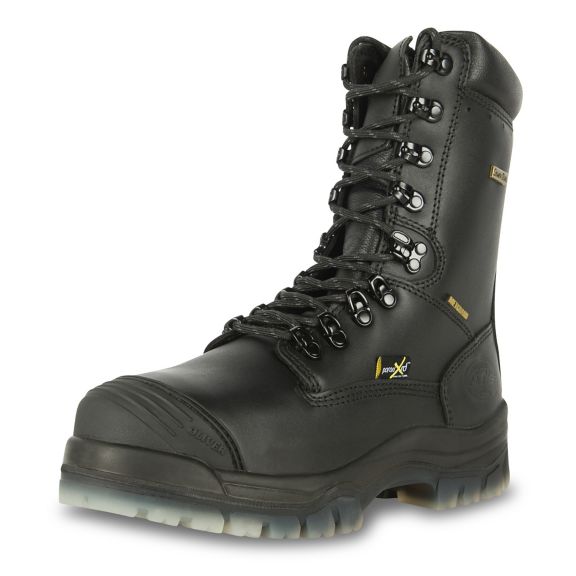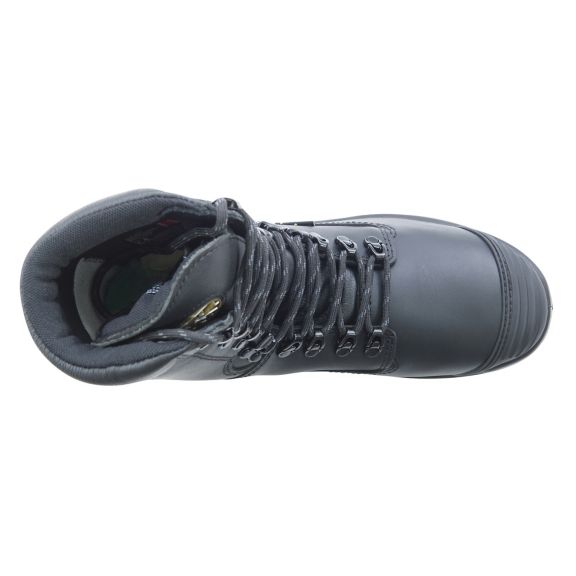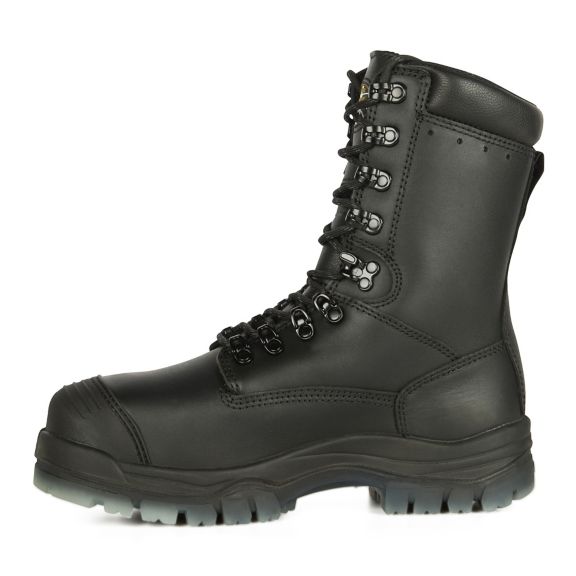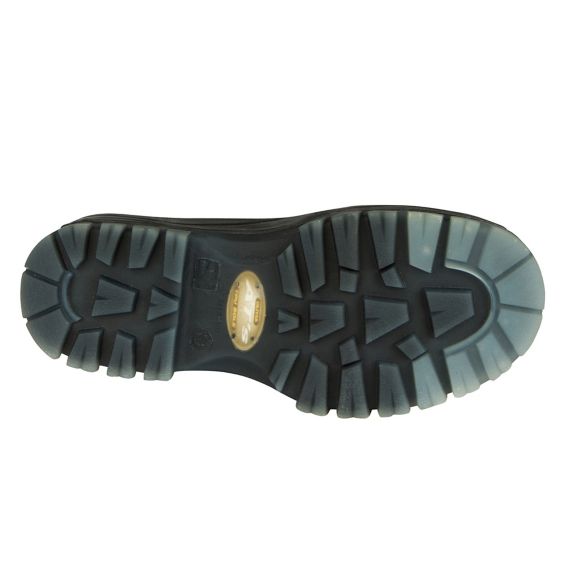 Oliver 45 Series safety footwear is constructed with liquid-resistant leather. The Oliver composite toe boots offer high-impact protection and is 40% lighter than traditional steel toe caps for less fatigue when worn all day. Black leather: lace-up: 8 in (200mm). Meets ASTM F2413-11 M I/75 C/75 Mt/75 EH.
Features & Benefits:
Liquid-resistant leather.
NATUREform composite toe impact protection.
PORON XRD metatarsal guard.
SYMPATEX waterproof liner to help keep feet dry.
NANOlite and COMFORTcushion technology to help reduce leg fatigue and enhance comfort.
All-terrain: TPU soling technology consists of a lightweight: shock absorbing low-density PU (polyurethane) midsole cushions the foot with each step for excellent comfort.
Oliver outsole design is slip-resistant to help prevent worker slips and falls and is heat-resistant to temperatures up to 266° F (130° C).
Others
Overall Height
Material
Metatarsal Protection
Steel Toe Protection
Water Resistance
Outsole Material
Upper Material
Shoe Gender
Shoe Color
Shoe Size

Men's Half 7.5 -11.5

Men's Whole 6-15
Others
Shoe Size

Men's Half 7.5 -11.5

Men's Whole 6-15
Overall Height : 8 millimetre|8 inch
Metatarsal Protection : Yes
Steel Toe Protection : Yes
Water Resistance : Waterproof
Outsole Material : Rubber
Shoe Size : Men's Half 7.5 -11.5|Men's Whole 6-15
Brochure
Name
Description
File Size
Date
Size
HS_oliver_45675c_hsp_industrial_footwear_catalog.pdf
application/pdf 12.31 MB
7/15/2021
12.31 MB
Others
Name
Description
File Size
Date
Size
HS_oliver_45675c_oliver sizing chart v2.pdf
application/pdf 39.84 KB
7/15/2021
39.84 KB
HS_oliver_45675c_oliver-45675c.pdf
application/pdf 127.74 KB
7/15/2021
127.74 KB
Name
Description
File Size
Date
Size
HS_oliver_45675c_oliver sizing chart v2.pdf
39.84 KB
7/15/2021
39.84 KB
HS_oliver_45675c_oliver-45675c.pdf
127.74 KB
7/15/2021
127.74 KB
HS_oliver_45675c_hsp_industrial_footwear_catalog.pdf
12.31 MB
7/15/2021
12.31 MB
Name
Description
File Size
Date
Size
HS_oliver_45675c_hsp_industrial_footwear_catalog.pdf
12.31 MB
7/15/2021
HS_oliver_45675c_oliver sizing chart v2.pdf
39.84 KB
7/15/2021
HS_oliver_45675c_oliver-45675c.pdf
127.74 KB
7/15/2021

45675C-BLK-060
Oliver 45 Series 9" Lace-Up Composite Toe MT EH Size 6

45675C-BLK-070
Oliver 45 Series 9" Lace-Up Composite Toe MT EH Size 7

45675C-BLK-075
Oliver 45 Series 9" Lace-Up Composite Toe MT EH Size 7.5

45675C-BLK-080
Oliver 45 Series 9" Lace-Up Composite Toe MT EH Size 8

45675C-BLK-085
Oliver 45 Series 9" Lace-Up Composite Toe MT EH Size 8.5

45675C-BLK-090
Oliver 45 Series 9" Lace-Up Composite Toe MT EH Size 9

45675C-BLK-095
Oliver 45 Series 9" Lace-Up Composite Toe MT EH Size 9.5

45675C-BLK-100
Oliver 45 Series 9" Lace-Up Composite Toe MT EH Size 10

45675C-BLK-105
Oliver 45 Series 9" Lace-Up Composite Toe MT EH Size 10.5

45675C-BLK-110
Oliver 45 Series 9" Lace-Up Composite Toe MT EH Size 11

45675C-BLK-060
Oliver 45 Series 9" Lace-Up Composite Toe MT EH Size 6

45675C-BLK-070
Oliver 45 Series 9" Lace-Up Composite Toe MT EH Size 7

45675C-BLK-075
Oliver 45 Series 9" Lace-Up Composite Toe MT EH Size 7.5

45675C-BLK-080
Oliver 45 Series 9" Lace-Up Composite Toe MT EH Size 8

45675C-BLK-085
Oliver 45 Series 9" Lace-Up Composite Toe MT EH Size 8.5

45675C-BLK-090
Oliver 45 Series 9" Lace-Up Composite Toe MT EH Size 9

45675C-BLK-095
Oliver 45 Series 9" Lace-Up Composite Toe MT EH Size 9.5

45675C-BLK-100
Oliver 45 Series 9" Lace-Up Composite Toe MT EH Size 10

45675C-BLK-105
Oliver 45 Series 9" Lace-Up Composite Toe MT EH Size 10.5

45675C-BLK-110
Oliver 45 Series 9" Lace-Up Composite Toe MT EH Size 11