Harnesses, Belts & Accessories
Miller AirCore Front D-ring Harness
Miller AirCore Front D-ring Harness
Обзор продукта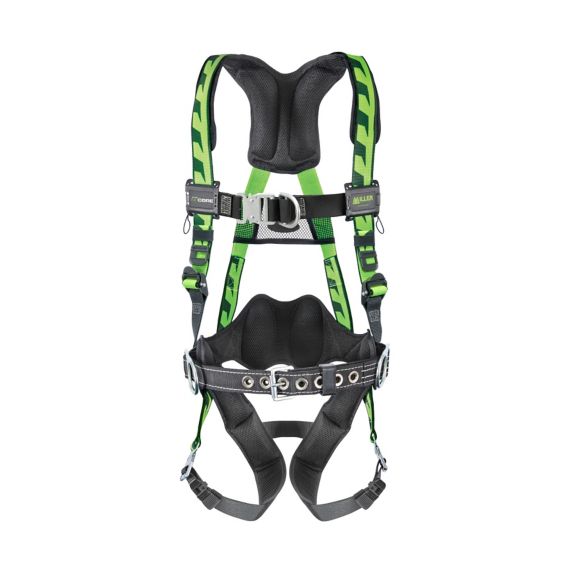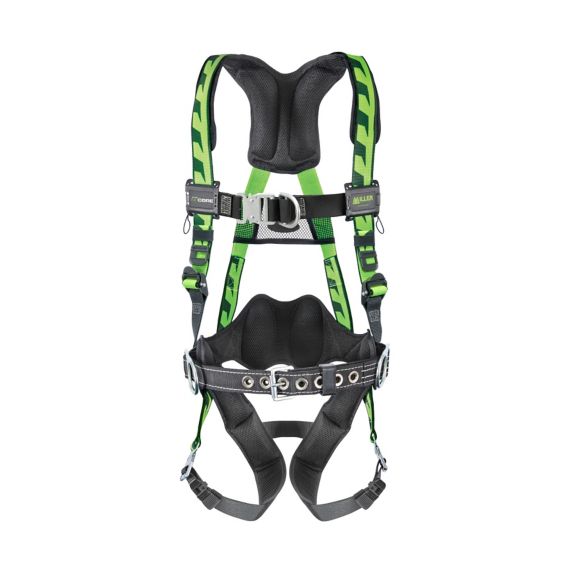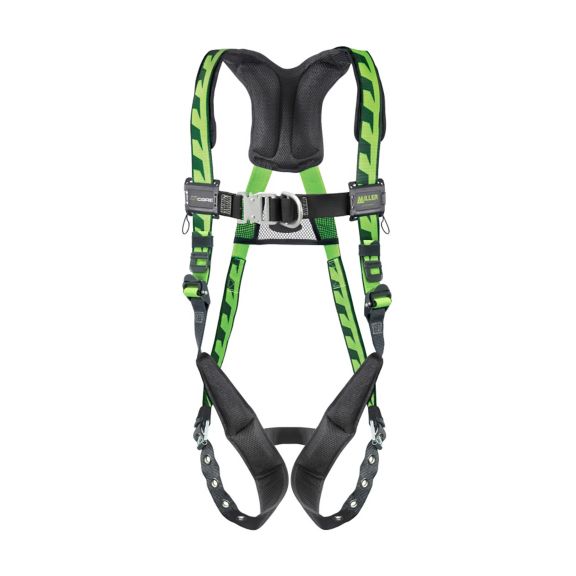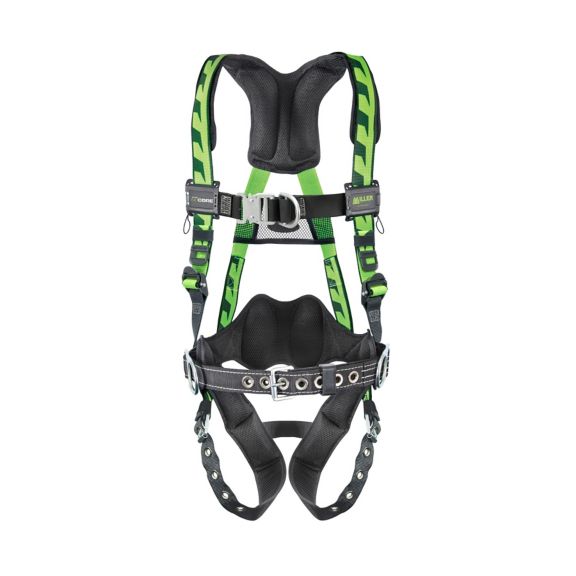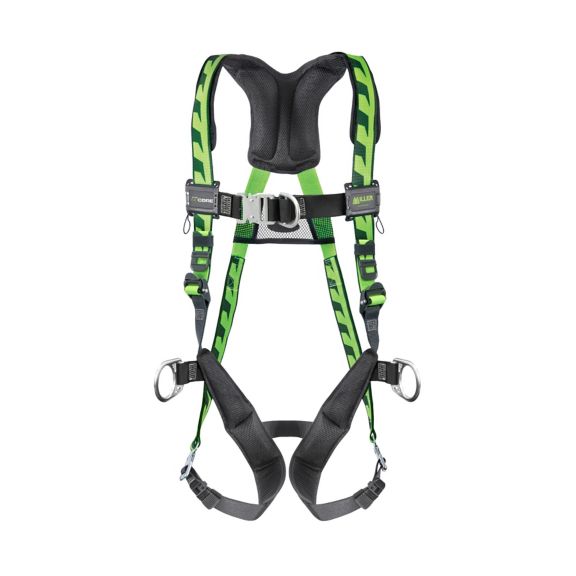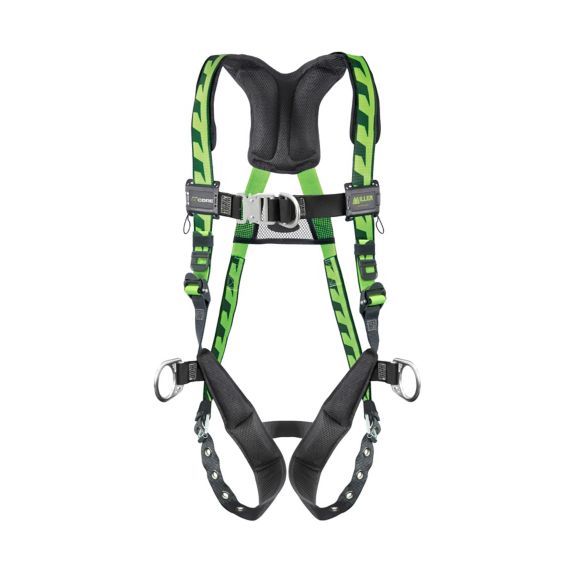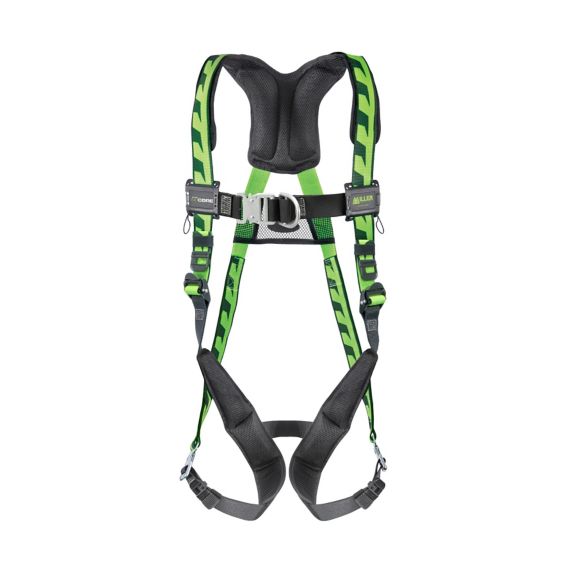 FOR USE IN CLIMBING & CONFINED SPACES
The Miller AirCore™ Harness was specially designed for the most demanding applications of professional users. Now available with a front D-ring: the harness is perfect for ladder climbing: descent or rescue positioning tasks: improving comfort: safety and productivity on the jobsite.
Durable
The AirCore™ harness is built with strong: lightweight webbing and a front D-ring that is highly corrosion-resistant: yet not stiff or coarse.
Ergonomic Design
Its contoured design minimizes contact around a worker's neck: lower back: and inner thighs to reduce chafing and improve comfort.
Features & Benefits:Comfortable
Open-core padding technology for softness: breathability: and moisture control
Up to 16% less surface area than other padding used on the market
The patented Miller DuraFlex® stretchable webbing maintains comfort at all times without compromising on mobility
Mobility
Unique cam buckles on the shoulder straps ensures vertical comfort
Quick-connect chest buckles provide easy donning and doffing
16% lighter in weight than competitive harnesses with aluminum hardware
20% lighter than harnesses with steel hardware
Others
Harness Size

S/M

XS

U

4XL

2/3 XL

XS

S/M

U

2/3 XL

4XL

Chest Strap Buckle Type
Shoulder Strap Buckle Type
Harness Style
Shoulder Padding
Sub-Pelvic Strap
Leg Strap Buckle Type

Tongue Buckle

Tongue Buckle

Quick-Connect

Quick-Connect

Padding Location

Shoulder

Leg

Shoulder

Leg

Lumbar

Lumbar

Webbing Material
D-Ring Locations

Side

Back

Back

Front

Side

Front

RFID
Padding Material
Webbing Type
Webbing Color
D-Ring Material
Others
Harness Size

S/M

XS

U

4XL

2/3 XL

XS

S/M

U

2/3 XL

4XL

Shoulder Strap Buckle Type

Leg Strap Buckle Type

Tongue Buckle

Tongue Buckle

Quick-Connect

Quick-Connect

Padding Location

Shoulder

Leg

Shoulder

Leg

Lumbar

Lumbar

D-Ring Locations

Side

Back

Back

Front

Side

Front
Harness Size : S/M|XS|U|4XL|2/3 XL|XS | S/M | U | 2/3 XL | 4XL
Chest Strap Buckle Type : Quick-Connect
Shoulder Strap Buckle Type : Cam Buckle
Harness Style : Stretchable
Leg Strap Buckle Type : Tongue Buckle|Tongue Buckle | Quick-Connect|Quick-Connect
Padding Location : Shoulder|Leg|Shoulder | Leg | Lumbar|Lumbar
Webbing Material : Polyester
D-Ring Locations : Side|Back|Back | Front | Side|Front
Padding Material : Polyurethane
Webbing Type : Stretchable
Webbing Color : Blue|Green | Blue|Green
Технические характеристики
Name
Description
File Size
Date
Size
AirCore Data Sheet
application/pdf 552.57 KB
11/3/2021
552.57 KB
Aircore Harness Data Sheet
application/pdf 553.39 KB
11/3/2021
553.39 KB
Руководства и инструкции
Name
Description
File Size
Date
Size
Harness & Body Belt User Manual
application/pdf 2 MB
11/3/2021
2 MB
Harness & Body Belt User Manual
application/pdf 1.98 MB
11/3/2021
1.98 MB
Брошюра
Name
Description
File Size
Date
Size
Others
Name
Description
File Size
Date
Size
AirCore Front D-Ring Harness FAQ'S
application/pdf 304.06 KB
11/3/2021
304.06 KB
Name
Description
File Size
Date
Size
Name
Description
File Size
Date
Size
AirCore Data Sheet
552.57 KB
11/3/2021
Aircore Harness Data Sheet
553.39 KB
11/3/2021
Harness & Body Belt User Manual
2 MB
11/3/2021
Harness & Body Belt User Manual
1.98 MB
11/3/2021
AirCore Front D-Ring Harness FAQ'S
304.06 KB
11/3/2021