Harnesses, Belts & Accessories
Miller AirCore™ Harness with Aluminum Hardware
Miller AirCore Harness with Aluminium Hardware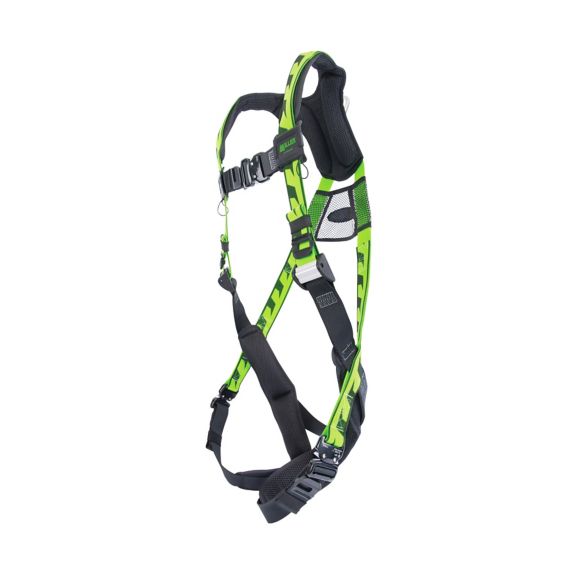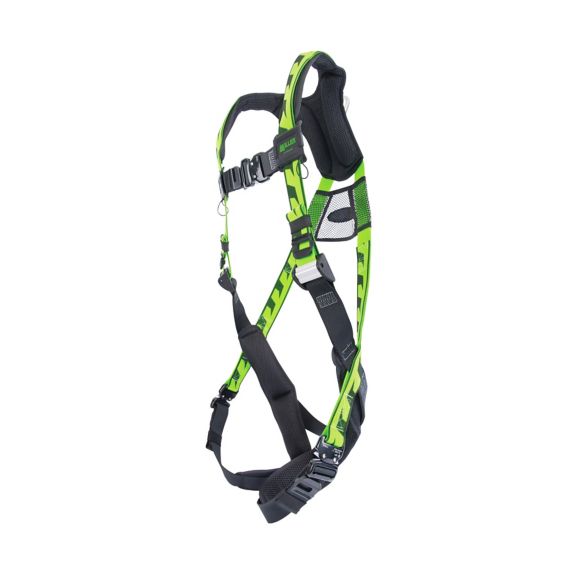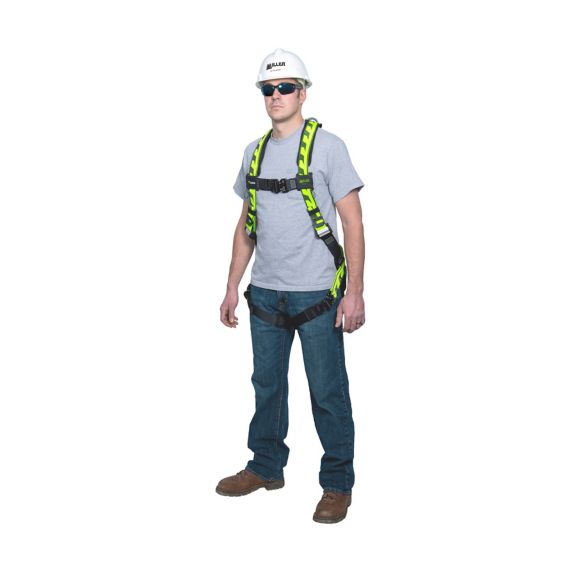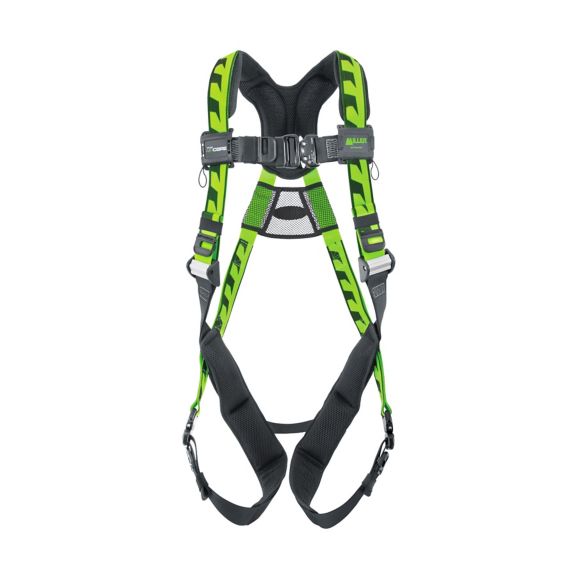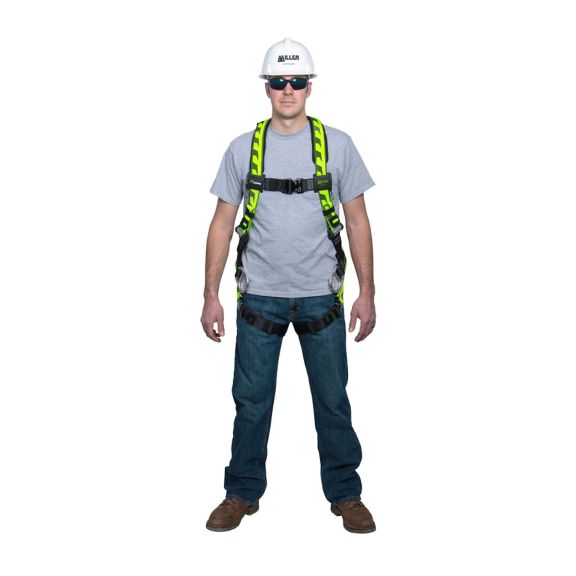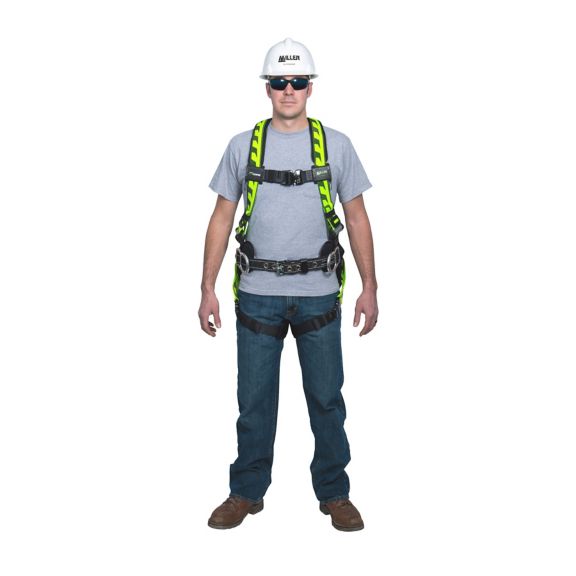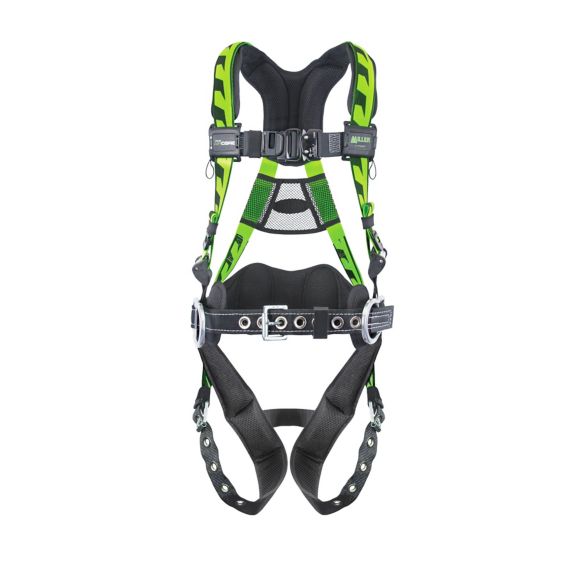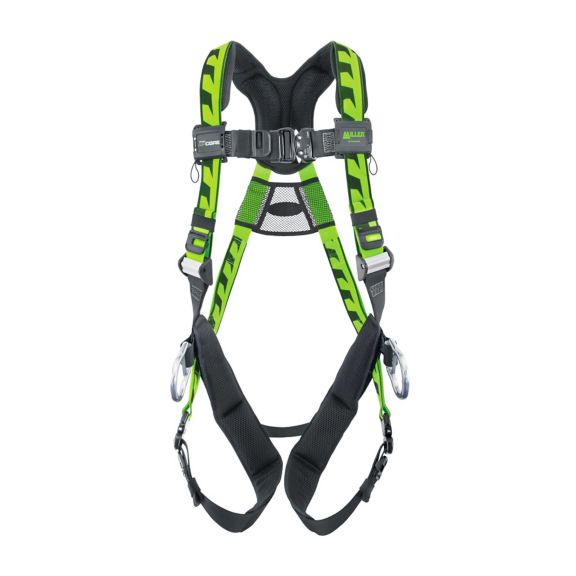 WITH ALUMINIUM HARDWARE
The Miller AirCore™ Harness is now available with lightweight: corrosion-resistant aluminum hardware. This line of AirCore harnesses with aluminum components provides the ultimate in performance and comfort.
Lightweight
Incorporates aluminum components selected to reduce fatigue in challenging working environments - up to 24% lighter than similar harnesses with aluminum hardware.
Extended Service Life
Corrosion-resistant aluminum hardware lasts longer: reducing replacement costs.
Features & Benefits:Improved Padding
AirCore™ harnesses are designed with patented Miller DuraFlex® stretchable webbing that provides greater flexibility and increased comfort
Reduces heat and moisture entrapment keeping workers drier and cooler
Up to 16% less surface area than other padding used on the market
Contoured design minimizes contact around the neck: lower back and inner thighs reducing chafing and irritation
Increased Usability
The cam buckle enables workers to adjust shoulder straps simultaneously with one-hand release
Quick-Connect chest buckle built with dual tab release mechanism to ensure easy donning
'Custom designed for the shoulders: lumbar area and legs
shoulders/lumbar/legs'
Versatile Convenience
Durable: removable lumbar wear pad features lightweight: non-marring materials that protect that harness and the wall of the turbine from damage
Uniquely designed removable belt with tool loops stays in position when disconnected: even when tools are attached
Oversized ID tag provides quick and easy harness size identification
Webbing design creates an original and vibrant color for easy identification: greater visibility and increased safety
Others
D-Ring Locations

Side

Back

Back

Front

Side

Front

Harness Size

U

2/3 XL

XS

4XL

XS

S/M

U

2/3 XL

4XL

S/M

Harness Style
D-Ring Material
Shoulder Strap Buckle Type
Webbing Color
Shoulder Padding
Webbing Type
Chest Strap Buckle Type

Mating Buckle

Quick-Connect

Mating Buckle

Quick-Connect

Leg Strap Buckle Type

Quick-Connect

Tongue Buckle

Tongue Buckle

Quick-Connect

Padding Material
Padding Location

Shoulder

Leg

Shoulder

Leg

Lumbar

Lumbar

Sub-Pelvic Strap
Webbing Material
RFID
Others
D-Ring Locations

Side

Back

Back

Front

Side

Front

Harness Size

U

2/3 XL

XS

4XL

XS

S/M

U

2/3 XL

4XL

S/M

Shoulder Strap Buckle Type

Chest Strap Buckle Type

Mating Buckle

Quick-Connect

Mating Buckle

Quick-Connect

Leg Strap Buckle Type

Quick-Connect

Tongue Buckle

Tongue Buckle

Quick-Connect

Padding Location

Shoulder

Leg

Shoulder

Leg

Lumbar

Lumbar
D-Ring Locations : Side|Back|Back | Front | Side|Front
Harness Size : U|2/3 XL|XS|4XL|XS | S/M | U | 2/3 XL | 4XL|S/M
Harness Style : Stretchable
D-Ring Material : Aluminum
Shoulder Strap Buckle Type : Cam Buckle
Webbing Color : Blue|Green|Green | Blue
Webbing Type : Stretchable
Chest Strap Buckle Type : Mating Buckle|Quick-Connect | Mating Buckle|Quick-Connect
Leg Strap Buckle Type : Quick-Connect|Tongue Buckle|Tongue Buckle | Quick-Connect
Padding Material : Polyurethane
Padding Location : Shoulder|Leg|Shoulder | Leg | Lumbar|Lumbar
Webbing Material : Polyester
Технические характеристики
Name
Description
File Size
Date
Size
Aircore Harness Data Sheet
application/pdf 553.39 KB
11/3/2021
553.39 KB
Руководства и инструкции
Name
Description
File Size
Date
Size
Harness & Body Belt User Manual
application/pdf 2 MB
11/3/2021
2 MB
Брошюра
Name
Description
File Size
Date
Size
AirCore Harness Brochure
application/pdf 1.69 MB
11/3/2021
1.69 MB
Others
Name
Description
File Size
Date
Size
AirCore Harness FAQ's
application/pdf 142.61 KB
11/3/2021
142.61 KB
Name
Description
File Size
Date
Size
Name
Description
File Size
Date
Size
Aircore Harness Data Sheet
553.39 KB
11/3/2021
Harness & Body Belt User Manual
2 MB
11/3/2021
AirCore Harness Brochure
1.69 MB
11/3/2021
AirCore Harness FAQ's
142.61 KB
11/3/2021