High Tech & Semiconductor
Midas
Midas® Gas Detector
Overview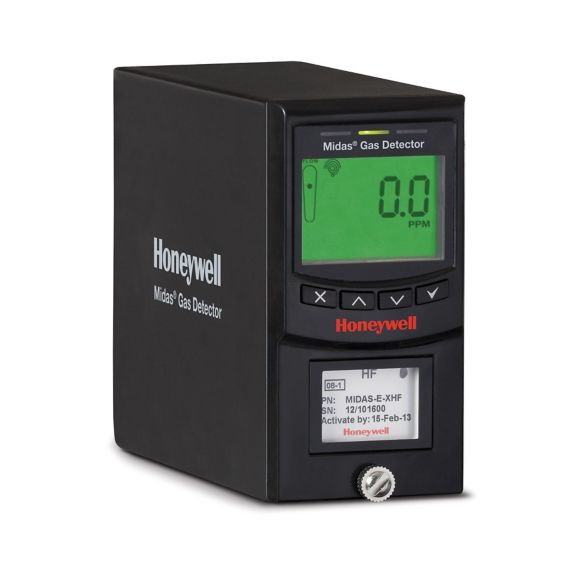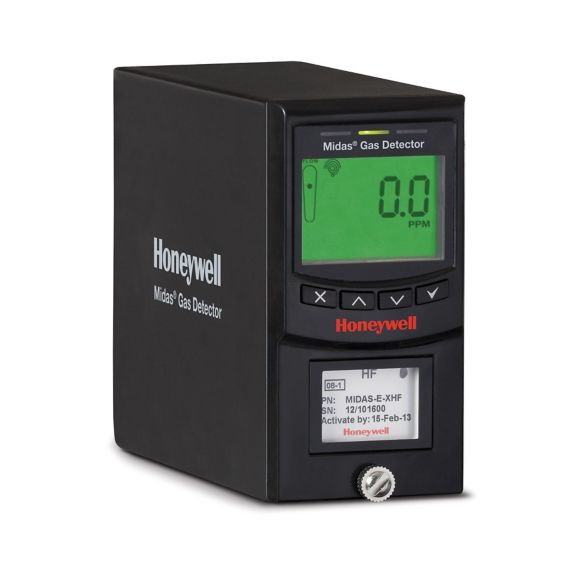 Bringing new visibility, reliability and ease of use to gas detection in semiconductor processing and industrial manufacturing.
Product Overview:
The Midas Gas Detector uses reliable sensor technology to detect many key toxic, ambient and flammable gases in a plant. The device monitors points up to 100 feet (30 meters) away while using patented technology to regulate flow rates and ensure error-free gas detection. Thanks to Honeywell's use of advanced robotics, the Midas Gas Detector offers unbeatable quality and reliability:
Improved visibility and ease of use. The Midas Gas Detector is equipped with bright LED lights and an intuitive, interactive interface that provides instant alerts to gas readings or alarm levels. The interface also includes password-protected menus for configuration, test and calibration.
Easy installation. Compact in size with an easy-to-handle metal chassis, the Midas Gas Detector is simple to install. That's especially important in crowded, complex process environments where space is at a premium.
Numerous applications. With feature-rich capabilities that are easy to use, the Midas Gas Detector is suitable for many industry applications, including semiconductor processing, light industrial manufacturing, university laboratories, aerospace, wastewater and more.
Additional Features and Benefits:
Over 35 gases available with extended 2 year warranty*
Smart sensor cartridge with on board 'e-calibration' certificate
3 built in relays (Form C) for Alarm 1, 2 and Fault
Power over Ethernet (PoE) communication
Keypad interface and remote web browser interface
Optional Midas Pyrolyzer module that connects to any Midas Gas Detector
Password protected menu levels to preserve system integrity
Bright LEDs and intuitive icon driven, large multicolor backlit LCD display
Factory-calibrated sensors to reduce need for frequent gas testing
Isolated 0-22 mA analog output with fault and event reporting
Modbus/TCP Ethernet for easy connectivity to all control and alarm systems ports for control connectivity and service interaction
Robust extractive pump system (2 year lifetime) sampling up to 100 feet
CE marked for total immunity to Radio Frequency Interference
Reflex® sensor health check for improved safety
TempraSureTM temperature compensation technology as appropriate
Event logging to review sensor history
Features & Benefits:
Detects more than 35 gases error-free
Improved visibility and ease of use
Easy installation
Quick Specs:
Flow Rate: 500 mL/min
Transport Time: 2 to 30 seconds maximum
Sample Line Tubing: 0.125 in ID x 0.25 in OD
Even the best products deserve expert maintenance!
Elevate your gas detectors' potential with Honeywell's expert maintenance services! Maximize uptime, eliminate costs, and ensure on-time, on-budget project completion.
Explore our fixed, portable, and high-tech support services now!
Data Sheet
Manuals and Guides
Firmware
Brochure
Technical Note
Certificate
Name
Description
File Size
Date
Size
Name
Description
File Size
Date
Size

1283B1300
Heater Service Pack for MIDAS-T-03P

1283K2220
LL II FREON/ IPA FILTER INSTALL KIT

1830-0027
Freon Filter for NF3 Pyrolyzing Gas Detector

1830-0080
Freon Filter for NF3 Pyrolyzing Gas Detector: Extended Life

1830K0080
IPA, H2S FILTER, MOLECULAR SIEVE 4A

20202-4010
Spray Deflector

20230-0100
Ex-Junction Box 2 nodes standard

20230-0105
Ex-Junction Box 1 node / R Version

MIDAS-A-001
MIDAS Operating Manual & Quick Start Guide (English)

MIDAS-A-007
Replacement Pump Assembly: Midas Gas Detector

1283B1300
Heater Service Pack for MIDAS-T-03P

1283K2220
LL II FREON/ IPA FILTER INSTALL KIT

1830-0027
Freon Filter for NF3 Pyrolyzing Gas Detector

1830-0080
Freon Filter for NF3 Pyrolyzing Gas Detector: Extended Life

1830K0080
IPA, H2S FILTER, MOLECULAR SIEVE 4A

20202-4010
Spray Deflector

20230-0100
Ex-Junction Box 2 nodes standard

20230-0105
Ex-Junction Box 1 node / R Version

MIDAS-A-001
MIDAS Operating Manual & Quick Start Guide (English)

MIDAS-A-007
Replacement Pump Assembly: Midas Gas Detector