High Tech & Semiconductor
Satellite XT Transmitter with Sensor
Satellite XT Transmitter with Sensor
Overview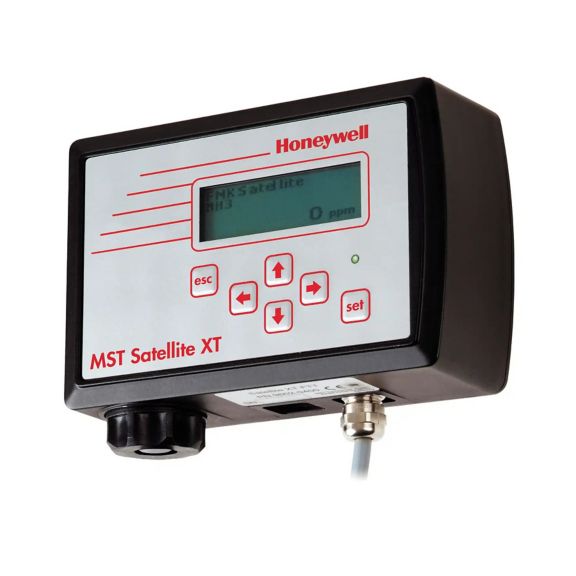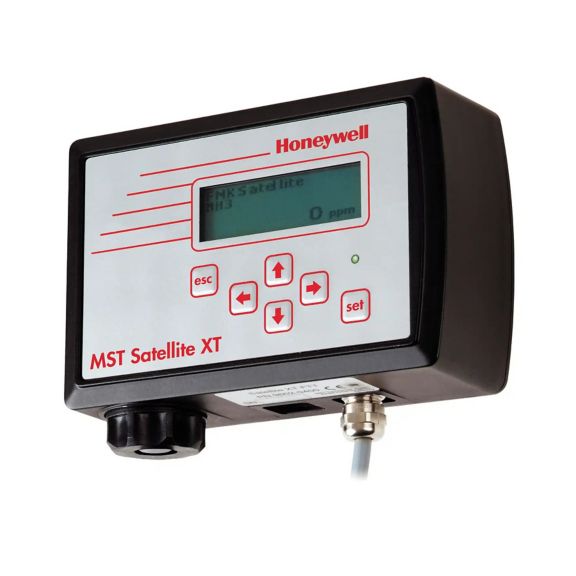 The Satellite XT is the simple solution for all "Point-of-Use" gas detection needs. Based upon the market's smallest and most reliable electrochemical cell technology, the Satellite XT offers flexibility, simplicity, and ease of use. The Satellite XT can be purchased in either an analogue or digital configuration, allowing it to interface with new or existing facility control technologies.
The digital Satellite XT is built on LonWorks® technology. Life safety systems built on a LonWorks® network platform allow users to leverage the cost efficiencies of distributed controls while maintaining the integrity and reliability necessary for code-compliant safety applications. Gas concentration and alarm information are both displayed locally at the Satellite XT, as well as distributed onto the LonWorks® network for use by other field devices. The Satellite XT provides complete programmability of all monitoring variables, including gas type, alarm levels, and maintenance status.
The Satellite XT is an intelligent gas detection transmitter that utilizes a unique electrochemical sensor to detect toxic, corrosive, and combustible gas. The Satellite XT monitor at or near a potential source of gas release. Field accessories allow sampling options for various environments, including in–situ duct detection and extractive designs for harsh or remote areas. Toxic gases that need to be pyrolyzed for detection can be detected with an optional pyrolyzer. Typical installations for gas detection sampling include gas cabinet exhaust ducting, valve manifold boxes, equipment enclosures, gas storage rooms, and ambient breathing zones. Manufacturers of Semiconductor manufacturing equipment also use it.
Additional Features and Benefits:
Advantages:
Fast, reliable, specific gas detection
Continuous real–time monitoring
Interchangeable intelligent sensor cell
No dynamic gas calibration required
Generic sensor head electronics
Low cost of ownership
No moving parts to wear down or replace
Data Sheet
Name
Description
File Size
Date
Size
Satellite XT Transmitter with Sensor - Data Sheet
application/pdf 2.52 MB
1/4/2023
2.52 MB
Manuals and Guides
Name
Description
File Size
Date
Size
Satellite XT 4-20 mA Versions - Guide to Operation
application/pdf 1.08 MB
10/21/2022
1.08 MB
Satellite XT FTT Version - Guide to Operation
application/pdf 1023.8 KB
10/21/2022
1023.8 KB
Satellite XT R Version - Guide to Operation
application/pdf 1.33 MB
10/21/2022
1.33 MB
Certificate
Name
Description
File Size
Date
Size
Satellite XT Series - EU Declaration of Conformity
application/pdf 170.29 KB
10/7/2022
170.29 KB
Name
Description
File Size
Date
Size
Name
Description
File Size
Date
Size
Satellite XT Transmitter with Sensor - Data Sheet
2.52 MB
1/4/2023
Satellite XT 4-20 mA Versions - Guide to Operation
1.08 MB
10/21/2022
Satellite XT FTT Version - Guide to Operation
1023.8 KB
10/21/2022
Satellite XT R Version - Guide to Operation
1.33 MB
10/21/2022
Satellite XT Series - EU Declaration of Conformity
170.29 KB
10/7/2022
SKUs

06.FILTER.STAUB
Einwegfilter Wirkungsgrad >93%

20202-0200
MST Sat-Ex 4-20mA

20202-0250
MST Sat-Ex 4-20mA/C

20202-0400
MST Sat-Ex FTT

20202-0405
MST Sat-EX FTT/R

20202-0450
MST Sat-Ex FTT/C

20202-0455
MST Sat-Ex FTT/C/R

20202-4000
Bar Magnet

20202.0090.00.00
Sensor Extension 2m Standard

20202.0091.00.00
Sensor Extension 3m Standard

06.FILTER.STAUB
Einwegfilter Wirkungsgrad >93%

20202-0200
MST Sat-Ex 4-20mA

20202-0250
MST Sat-Ex 4-20mA/C

20202-0400
MST Sat-Ex FTT

20202-0405
MST Sat-EX FTT/R

20202-0450
MST Sat-Ex FTT/C

20202-0455
MST Sat-Ex FTT/C/R

20202-4000
Bar Magnet

20202.0090.00.00
Sensor Extension 2m Standard

20202.0091.00.00
Sensor Extension 3m Standard