Portables
ToxiRAE Pro PID
Compact, wireless VOC single gas monitor
Overview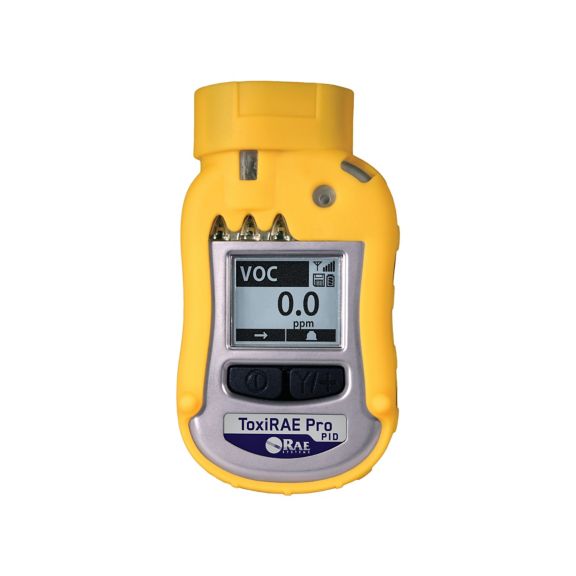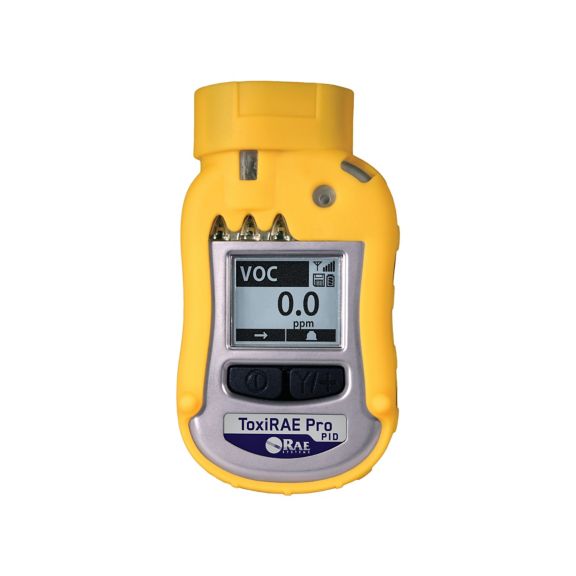 Protect workers from the threat of volatile organic compounds (VOCs) in the workplace and observe conditions remotely from a central command station with this compact, wireless monitor. The ToxiRAE Pro PID's next-generation sensor can detect over 300 VOCs and uses a built-in on-board library of 190 correction factors to automatically read gases in equivalent units. Reliable, rugged, and intrinsically safe, the ToxiRAE Pro PID can be easily attached to workers' uniforms, and also provides a man-down alarm. It all adds up to better visibility and faster incident response in a variety of conditions.
Features and Benefits:
Compact, personal wireless monitor
PID sensor accurately monitors over 300 VOCs
Built-in library of 190 correction factors for automatic reading in equivalent units
5-way local and remote wireless alarm
Water-, dust-, and shock-resistant
Built-in man down alarm
Fully automatic bump testing and calibration with AutoRAE2
Readily enables to communicate with Motorola MOTOTRBO
Application:
Environmental Cleanups/ Remediation
Hazmat Response
Plant Shutdown & Turn-Around
Worker Exposure
Even the best products deserve expert maintenance!
Elevate your gas detectors' potential with Honeywell's expert maintenance services! Maximize uptime, eliminate costs, and ensure on-time, on-budget project completion.
Explore our fixed, portable, and high-tech support services now!
Dimension & Weight
Instrument Size

4.6" H x 2.4" W x 1.2" D (118 x 60 x 30 mm)
Range
Humidity Range
Sensor Range
Alarm
Alarm Type

Audible, Visual, Vibrating
Certifications
Standards

Class I, Division 1, Groups A, B, C, D, T4
Features & Benefits
Benefits

Wireless elevates safety to the next level
Options
User Options

Wireless remote alarm notification; audible (95 dB @ 30 cm)
Additional Specifications
Ingress Protection
Gas Type
Others
Minimum Temperature

-20 degree Celsius

-4 degree Fahrenheit

Maximum Temperature

131 degree Fahrenheit

55 degree Celsius
Dimension & Weight
Instrument Size

4.6" H x 2.4" W x 1.2" D (118 x 60 x 30 mm)
Alarm
Alarm Type

Audible, Visual, Vibrating
Certifications
Standards

Class I, Division 1, Groups A, B, C, D, T4
Features & Benefits
Benefits

Wireless elevates safety to the next level
Options
User Options

Wireless remote alarm notification; audible (95 dB @ 30 cm)
Additional Specifications
Others
Minimum Temperature

-20 degree Celsius

-4 degree Fahrenheit

Maximum Temperature

131 degree Fahrenheit

55 degree Celsius
Minimum Temperature : -20 degree Celsius|-4 degree Fahrenheit
Maximum Temperature : 131 degree Fahrenheit|55 degree Celsius
Weight : 235 gram|8.29 ounce av
Sub-Category : Single-Gas
Instrument Size : 4.6" H x 2.4" W x 1.2" D (118 x 60 x 30 mm)
Sensor Range : VOC (0-2000ppm)
Alarm Type : Audible, Visual, Vibrating
Battery Run Time : 12 hours
Standards : Class I, Division 1, Groups A, B, C, D, T4
Datalogging : Three-month capacity
Benefits : Wireless elevates safety to the next level
User Options : Wireless remote alarm notification; audible (95 dB @ 30 cm)
Warranty : Four years on O2 sensor
Wireless Technology : MESH
Ingress Protection : IP65
Data Sheet
Manuals and Guides
Firmware
Brochure
Technical Note
White Paper
Certificate
Application Note
Name
Description
File Size
Date
Size
Name
Description
File Size
Date
Size

G02-B000-000
ToxiRAE Pro 10.6 eV PID (0.1 - 2,000 ppm range, 0.1 ppm res.) / Datalogging / Non-Wireless

G02-B004-000
ToxiRAE Pro 10.6 eV PID (0.1 - 2,000 ppm range, 0.1 ppm res.) / Datalogging / Wireless (900 MHz)

G02-B010-000
ToxiRAE Pro 10.6 eV PID (1 - 1,000 ppm range, 1 ppm res.) / No Datalogging / Non-Wireless

G02-B014-000
ToxiRAE Pro 10.6 eV PID (1 - 1,000 ppm range, 1 ppm res.) / No Datalogging / Wireless (900 MHz)

G02-B020-000
ToxiRAE Pro 9.8 eV PID (0.1 - 2,000 ppm range, 0.1 ppm res.) / Datalogging / Non-Wireless

G02-B024-000
ToxiRAE Pro 9.8 eV PID (0.1 - 2,000 ppm range, 0.1 ppm res.) / Datalogging / Wireless (900 MHz)

G02-B000-000
ToxiRAE Pro 10.6 eV PID (0.1 - 2,000 ppm range, 0.1 ppm res.) / Datalogging / Non-Wireless

G02-B004-000
ToxiRAE Pro 10.6 eV PID (0.1 - 2,000 ppm range, 0.1 ppm res.) / Datalogging / Wireless (900 MHz)

G02-B010-000
ToxiRAE Pro 10.6 eV PID (1 - 1,000 ppm range, 1 ppm res.) / No Datalogging / Non-Wireless

G02-B014-000
ToxiRAE Pro 10.6 eV PID (1 - 1,000 ppm range, 1 ppm res.) / No Datalogging / Wireless (900 MHz)

G02-B020-000
ToxiRAE Pro 9.8 eV PID (0.1 - 2,000 ppm range, 0.1 ppm res.) / Datalogging / Non-Wireless

G02-B024-000
ToxiRAE Pro 9.8 eV PID (0.1 - 2,000 ppm range, 0.1 ppm res.) / Datalogging / Wireless (900 MHz)