Portables
MultiRAE Lite
Wireless, portable multi-gas monitor
Overview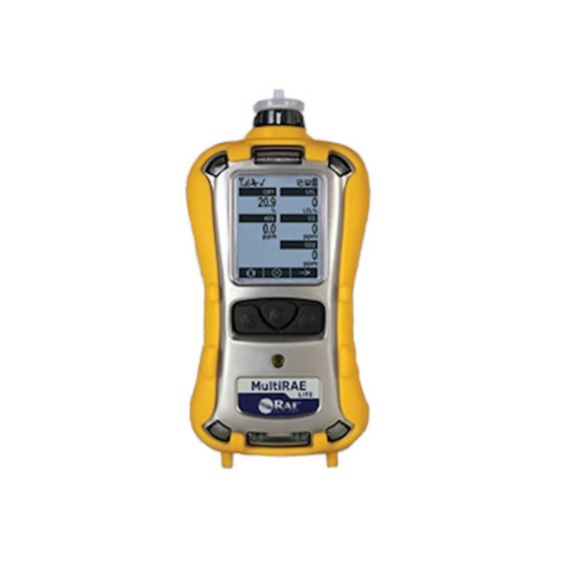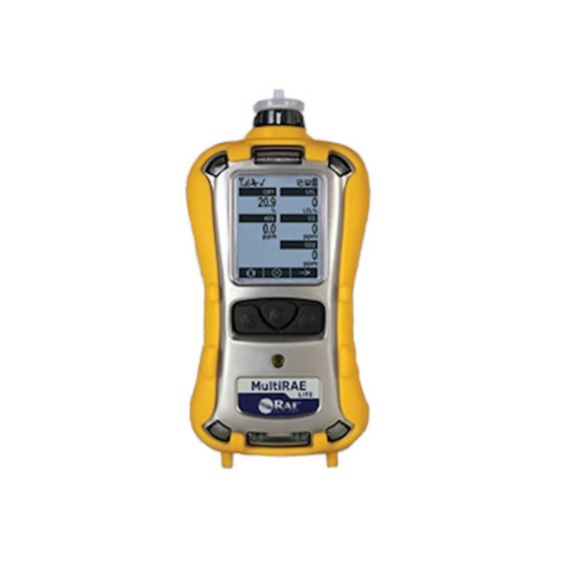 This multi-gas monitor provides versatile, customizable detection and monitoring of up to six gases, available in both pumped and diffused air models. With more than 25 sensors to choose from — the broadest selection in its class — it can test for VOCs, combustibles, and a range of toxic threats, as well as monitor sufficient oxygen levels, making it an excellent choice for personal protection and leak detection in a range of industries and applications. The wireless connection sends threat and alarm data in real time to a central command, providing superior awareness for fast incident response. And its replaceable sensors, alarm, and battery, large screen, and automated bump testing and calibration make it easy to use and maintain.
Features and Benefits:
Multi-gas monitor for 1-6 gases
Pumped and diffusion models available
Man down alarm
More than 25 different chemical sensors
Fully automatic bump testing and calibration
Real-time access to readings at central command
Swap out sensors as needed
Simple maintenance with replaceable sensors, pump, and battery
5-way local and remote wireless alarm
Multi-language capability – up to 18 languages
Device Management with Honeywell Sotera™ Express
Readily enables to communicate with Motorola MOTOTRBO
Application:
Clandestine Labs
Confined Space Entry
Emergency Response
Environmental Cleanups/ Remediation
Exploration
Fire Overhaul
Fracking
Hazmat Response
Plant Shutdown & Turn-Around
Urban Search & Rescue
Even the best products deserve expert maintenance!
Elevate your gas detectors' potential with Honeywell's expert maintenance services! Maximize uptime, eliminate costs, and ensure on-time, on-budget project completion.
Explore our fixed, portable, and high-tech support services now!
Dimension & Weight
Instrument Size

7.6 in x 3.8 in x 2.6 in D / [193 mm x 96.5 mm x 66 mm]
Range
Humidity Range
Sensor Range

NH3 (0-100ppm), CO (0-2000ppm), H2S (0-200ppm), CL2 (0-50ppm), CLO2 (0-1ppm), ETO (0-100ppm), HCHO (0-10ppm), HCN (0-50ppm), CH3-SH (0-10ppm), NO (0-250ppm), NO2 (0-20ppm), O2 (0-30%vol), PH3 (0-20ppm), SO2 (0-20ppm), VOC (0-5000ppm), LEL (0-100%LEL), CO2 (0-50000ppm)
Alarm
Alarm Type

Audible, Visual, Vibrating
Certifications
Standards

Class I, Division 1, Groups A, B, C, D, T4
Datalogging
Datalogging

Continuous datalogging (6 months for 5 sensors at 1-minute intervals, 24/7)
Features & Benefits
Benefits

Highly versatile and customizable
Options
User Options

3 operation and programming keys (Mode, Y/+, and N/-). Multiple User Options can be selected
Warranty
Warranty

Four years on Liq O2 sensors
Additional Specifications
Ingress Protection
Gas Type

NH3, CO, H2S, CL2, CLO2, ETO, HCHO, HCN,CH3-SH, NO, NO2, O2, PH3, SO2, VOC, LEL, CO2
Others
Minimum Temperature

-20 degree Celsius

-4 degree Fahrenheit

Maximum Temperature

122 degree Fahrenheit

50 degree Celsius
Dimension & Weight
Instrument Size

7.6 in x 3.8 in x 2.6 in D / [193 mm x 96.5 mm x 66 mm]
Range
Sensor Range

NH3 (0-100ppm), CO (0-2000ppm), H2S (0-200ppm), CL2 (0-50ppm), CLO2 (0-1ppm), ETO (0-100ppm), HCHO (0-10ppm), HCN (0-50ppm), CH3-SH (0-10ppm), NO (0-250ppm), NO2 (0-20ppm), O2 (0-30%vol), PH3 (0-20ppm), SO2 (0-20ppm), VOC (0-5000ppm), LEL (0-100%LEL), CO2 (0-50000ppm)
Alarm
Alarm Type

Audible, Visual, Vibrating
Certifications
Standards

Class I, Division 1, Groups A, B, C, D, T4
Datalogging
Datalogging

Continuous datalogging (6 months for 5 sensors at 1-minute intervals, 24/7)
Features & Benefits
Benefits

Highly versatile and customizable
Options
User Options

3 operation and programming keys (Mode, Y/+, and N/-). Multiple User Options can be selected
Warranty
Warranty

Four years on Liq O2 sensors
Additional Specifications
Gas Type

NH3, CO, H2S, CL2, CLO2, ETO, HCHO, HCN,CH3-SH, NO, NO2, O2, PH3, SO2, VOC, LEL, CO2
Others
Minimum Temperature

-20 degree Celsius

-4 degree Fahrenheit

Maximum Temperature

122 degree Fahrenheit

50 degree Celsius
Minimum Temperature : -20 degree Celsius|-4 degree Fahrenheit
Maximum Temperature : 122 degree Fahrenheit|50 degree Celsius
Weight : 31 ounce av|880 gram
Instrument Size : 7.6 in x 3.8 in x 2.6 in D / [193 mm x 96.5 mm x 66 mm]
Humidity Range : 0%-95% percent
Sensor Range : NH3 (0-100ppm), CO (0-2000ppm), H2S (0-200ppm), CL2 (0-50ppm), CLO2 (0-1ppm), ETO (0-100ppm), HCHO (0-10ppm), HCN (0-50ppm), CH3-SH (0-10ppm), NO (0-250ppm), NO2 (0-20ppm), O2 (0-30%vol), PH3 (0-20ppm), SO2 (0-20ppm), VOC (0-5000ppm), LEL (0-100%LEL), CO2 (0-50000ppm)
Alarm Type : Audible, Visual, Vibrating
Battery Run Time : 12-18 hours
Standards : Class I, Division 1, Groups A, B, C, D, T4
Datalogging : Continuous datalogging (6 months for 5 sensors at 1-minute intervals, 24/7)
Benefits : Highly versatile and customizable
User Options : 3 operation and programming keys (Mode, Y/+, and N/-). Multiple User Options can be selected
Sampling Pump Range : 100ft (30m) meter
Warranty : Four years on Liq O2 sensors
Wireless Technology : BLE
Ingress Protection : IP65
Gas Type : NH3, CO, H2S, CL2, CLO2, ETO, HCHO, HCN,CH3-SH, NO, NO2, O2, PH3, SO2, VOC, LEL, CO2
Data Sheet
Manuals and Guides
Firmware
Software
Brochure
Technical Note
Certificate
Application Note
Name
Description
File Size
Date
Size
Name
Description
File Size
Date
Size

MAA3-0000000-320
MR LT/ATX/PMP/ 868M

MAA3-0000001-P20
MR LT/ATX/PMP/ H2S/P2P

MAA3-0000002-020
MR LT/ATX/PMP/ CO/N-WS

MAA3-0000004-020
MR LT/ATX/PMP/ NO/N-WS

MAA3-0000006-020
MR LT/ATX/PMP/ Cl2/N-WS

MAA3-0000008-020
MR LT/ATX/PMP/ NH3/N-WS

MAA3-000000A-020
MR LT/ATX/PMP/ ClO2/N-WS

MAA3-000000E-020
MR LT/ATX/PMP/ O2/N-WS

MAA3-000000E-021
MR LT/ATX/PMP/ O2/N-WS

MAA3-000000E-030
MR LT/ATX/PMP/ O2/N-WS

MAA3-0000000-320
MR LT/ATX/PMP/ 868M

MAA3-0000001-P20
MR LT/ATX/PMP/ H2S/P2P

MAA3-0000002-020
MR LT/ATX/PMP/ CO/N-WS

MAA3-0000004-020
MR LT/ATX/PMP/ NO/N-WS

MAA3-0000006-020
MR LT/ATX/PMP/ Cl2/N-WS

MAA3-0000008-020
MR LT/ATX/PMP/ NH3/N-WS

MAA3-000000A-020
MR LT/ATX/PMP/ ClO2/N-WS

MAA3-000000E-020
MR LT/ATX/PMP/ O2/N-WS

MAA3-000000E-021
MR LT/ATX/PMP/ O2/N-WS

MAA3-000000E-030
MR LT/ATX/PMP/ O2/N-WS