보드 장착 압력 센서
기본 ABP 시리즈
보정됨. ±1.5 %FSS TEB. 저압 차동 또는 게이지 디지털 또는 아날로그 출력 DIP, 무연 SMT, SMT. 비용 효율적
제품설명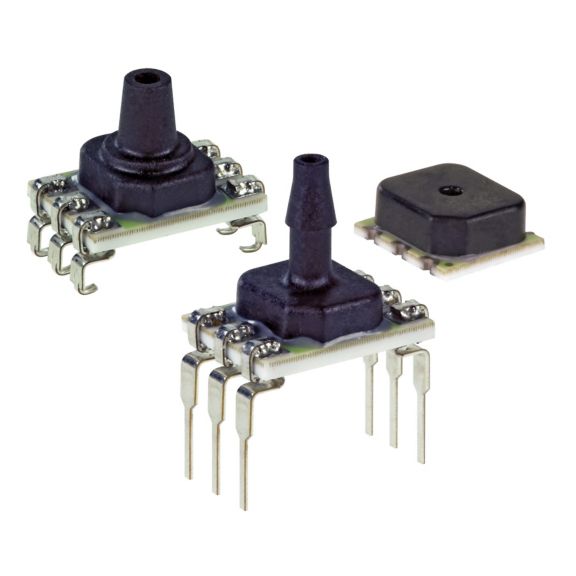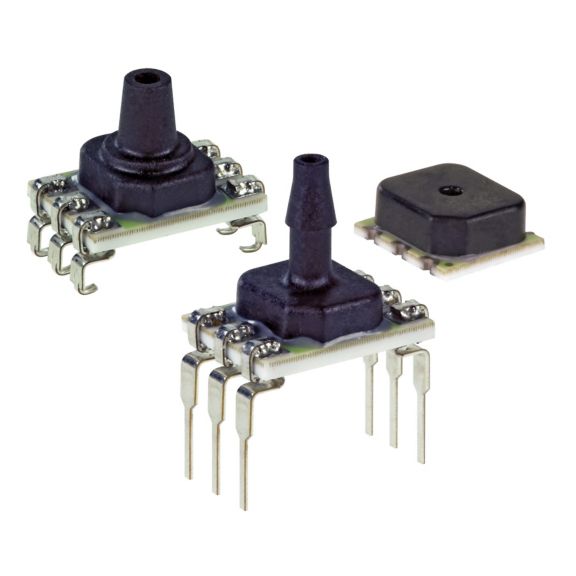 압력 범위
±60 mbar ~ ±10 bar | ±6 kPa ~ ±1 MPa | ±1 psi ~ ±150 psi
설명
ABP 시리즈는 압전저항형 실리콘 압력 센서로, 비율계량적 아날로그 또는 디지털 출력을 제공하여 지정된 모든 압력 및 온도 범위에서 압력을 판독합니다. 이 센서들은 탑재식 주문형 반도체(ASIC)를 사용하여 센서 오프셋, 감도, 온도 영향 및 정확도 오류(비선형성, 반복성 및 히스테리시스 포함)에 대해 완벽하게 교정되고 온도 보정됩니다. 압력에 대한 보정 출력값은 아날로그의 경우 약 1 khZ에서, 디지털의 경우 약 2 kHz에서 업데이트됩니다. 모든 제품은 ISO 9001 표준에 따라 설계 및 제조되었습니다.
건식 가스 옵션: 입력 포트는 비부식성, 비이온 매질(예: 건식 공기, 가스)로 사용이 제한되며 응결에 노출되지 않아야 합니다. 가스는 고온 폴리아미드, 실리콘, 알루미나 자기, 실리콘, 금 및 유리와 양립이 가능한 매질로 제한됩니다.
액체 매질 옵션: 추가적인 실리콘 기반 겔 코팅이 포함되어 포트 P1 하의 전자장치를 보호하여 비부식성 액체(예: 물 및 식염수)와 응결이 발생할 수 있는 분야에 사용될 수 있습니다. 포트 P2는 비부식성 액체용으로 설계됐기 때문에, 이 옵션은 주로 습식/습식 차동 감지에 적합합니다.
고객에게 제공되는 가치
설계 단순화: 소형 크기로 PC 보드(PCB)의 공간을 절약하거나 더 작고 더 낮은 전력 장치로 설계를 단순화합니다. 수분 감도 레벨 1의 요건을 충족하므로 다음 장소에 보관할 경우 저장 수명에 제한이 없습니다.<30 °C/85 %RH and, under most storage conditions, allows for PCB soldering without any material concern about solder joint quality due to aging of the sensor terminals, which minimizes the concern about aging of the terminals prior PCB assembly. Pressure choices allow engineers to select range required for their application. Leadless SMT, SMT, and DIP package options.
비용 효율적: 소형 크기 덕분에 엔지니어는 설계 및 제조 비용을 줄이면서 설계하는 시스템의 향상된 성능과 신뢰도를 유지할 수 있습니다.
정확도: 토탈 에러 밴드(TEB)와 폭넓은 압력 범위 덕분에 엔지니어는 분해능과 시스템 정확도를 개선함으로써 시스템 성능을 최적화할 수 있습니다. 선택적인 내부 진단 기능은 센서 판독값의 정확성을 검증합니다.
유연성: 공급 전압 범위, 압력 장치, 유형 및 범위의 다양성, 출력 옵션 및 폭넓은 작동 온도 범위는 응용 분야에서의 사용을 단순화합니다.
다용도: 이 센서는 습식 매질 호환성, 슬립 모드 및 온도 출력 옵션으로 사물인터넷 분야에서 다용도로 선택됩니다.
Honeywell 브랜드: 독점적인 Honeywell의 기술을 활용하고 다수의 글로벌 특허권의 보호를 받습니다.
차별화:
향상된 정확도는 설계 엔지니어가 측정 오류를 완전히 이해하는 데 도움을 줍니다.
폭넓은 공급 전압 범위는 설계 융통성을 제공합니다.
전절 모드 옵션을 활용하는 전력 소비로 배터리로 구동되는 응용 분야에서 사용될 수 있습니다.
데이터시트
매뉴얼 및 가이드
설치 안내
CAD 모델
브로슈어
테크니컬 노트
백서
어플리케이션 노트
제품 사진
Name
Description
File Size
Date
Size
Name
Description
File Size
Date
Size

ABPDANN005PG2A3
Basic ABP Series, Compensated/Amplified, gage, DIP AN: single axial barbed port, dry gases only, no diagnostics, 0 psi to 5 psi, digital I²C address: 0x28, no temperature output, no sleep mode, 3.3 Vdc

ABPDANT005PGAA5
Basic ABP Series, Compensated/Amplified, gage, DIP AN: single axial barbed port, liquid media, no diagnostics, 0 psi to 5 psi, 10% to 90% of Vsupply, no temperature output, no sleep mode, 5.0 Vdc

ABPDANT015PGAA5
기본 ABP 시리즈, 보정/증폭, 게이지, DIP AN: 단일 축방향 바브형 포트, 액체 매질, 진단 없음, 0psi ~ 15psi, 10% ~ 90% Vsupply, 온도 출력 없음, 절전 모드 없음, 5.0Vdc

ABPDJJT001PGAA5
Basic ABP Series, Compensated/Amplified, gage, DIP JJ: dual radial barbless ports, same side, liquid media, no diagnostics, 0 psi to 1 psi,10% to 90% of Vsupply, no temperature output, no sleep mode, 5.0 Vdc

ABPDLNN100MG2A3
Basic ABP Series, Compensated/Amplified, gage, DIP LN: single axial barbless port, dry gases only, no diagnostics, 0 mbar to 100 mbar, digital I²C address: 0x28, no temperature output, no sleep mode, 3.3 Vdc

ABPDRRT005PG2A5
Basic ABP Series, Compensated/Amplified, gage, DIP RR: dual radial barbed ports, same side, liquid media, no diagnostics, 0 psi to 5 psi, digital I²C address: 0x28, no temperature output, no sleep mode, 5.0 Vdc

ABPLANN001PG2A5
Basic ABP Series, Compensated/Amplified, gage, leadless SMT AN: single axial barbed port, dry gases only, no diagnostics, 0 psi to 1 psi, digital I²C address: 0x28, no temperature output, no sleep mode, 5.0 Vdc

ABPLANT015PD2A5
Basic ABP Series, Compensated/Amplified, differential, leadless SMT AN: single axial barbed port, liquid media, no diagnostics, 0 psi to 15 psi, digital I²C address: 0x28, 10% to 90% of Vsupply, no temperature output, no sleep mode, 5.0 Vdc

ABPLLND060MGAA3
Basic ABP Series, Compensated/Amplified, gage, leadless SMT LN: single axial barbless port, dry gases only, diagnostics on, 0 mbar to 60 mbar, analog, 10% to 90% of Vsupply, no temperature output, no sleep mode, 3.3 Vdc

ABPLLNN600MGAA3
Basic ABP Series, Compensated/Amplified, gage, leadless SMT LN: single axial barbless port, dry gases only, no diagnostics, 0 mbar to 600 mbar, analog, 10% to 90% of Vsupply, no temperature output, no sleep mode, 3.3 Vdc

ABPDANN005PG2A3
Basic ABP Series, Compensated/Amplified, gage, DIP AN: single axial barbed port, dry gases only, no diagnostics, 0 psi to 5 psi, digital I²C address: 0x28, no temperature output, no sleep mode, 3.3 Vdc

ABPDANT005PGAA5
Basic ABP Series, Compensated/Amplified, gage, DIP AN: single axial barbed port, liquid media, no diagnostics, 0 psi to 5 psi, 10% to 90% of Vsupply, no temperature output, no sleep mode, 5.0 Vdc

ABPDANT015PGAA5
기본 ABP 시리즈, 보정/증폭, 게이지, DIP AN: 단일 축방향 바브형 포트, 액체 매질, 진단 없음, 0psi ~ 15psi, 10% ~ 90% Vsupply, 온도 출력 없음, 절전 모드 없음, 5.0Vdc

ABPDJJT001PGAA5
Basic ABP Series, Compensated/Amplified, gage, DIP JJ: dual radial barbless ports, same side, liquid media, no diagnostics, 0 psi to 1 psi,10% to 90% of Vsupply, no temperature output, no sleep mode, 5.0 Vdc

ABPDLNN100MG2A3
Basic ABP Series, Compensated/Amplified, gage, DIP LN: single axial barbless port, dry gases only, no diagnostics, 0 mbar to 100 mbar, digital I²C address: 0x28, no temperature output, no sleep mode, 3.3 Vdc

ABPDRRT005PG2A5
Basic ABP Series, Compensated/Amplified, gage, DIP RR: dual radial barbed ports, same side, liquid media, no diagnostics, 0 psi to 5 psi, digital I²C address: 0x28, no temperature output, no sleep mode, 5.0 Vdc

ABPLANN001PG2A5
Basic ABP Series, Compensated/Amplified, gage, leadless SMT AN: single axial barbed port, dry gases only, no diagnostics, 0 psi to 1 psi, digital I²C address: 0x28, no temperature output, no sleep mode, 5.0 Vdc

ABPLANT015PD2A5
Basic ABP Series, Compensated/Amplified, differential, leadless SMT AN: single axial barbed port, liquid media, no diagnostics, 0 psi to 15 psi, digital I²C address: 0x28, 10% to 90% of Vsupply, no temperature output, no sleep mode, 5.0 Vdc

ABPLLND060MGAA3
Basic ABP Series, Compensated/Amplified, gage, leadless SMT LN: single axial barbless port, dry gases only, diagnostics on, 0 mbar to 60 mbar, analog, 10% to 90% of Vsupply, no temperature output, no sleep mode, 3.3 Vdc

ABPLLNN600MGAA3
Basic ABP Series, Compensated/Amplified, gage, leadless SMT LN: single axial barbless port, dry gases only, no diagnostics, 0 mbar to 600 mbar, analog, 10% to 90% of Vsupply, no temperature output, no sleep mode, 3.3 Vdc